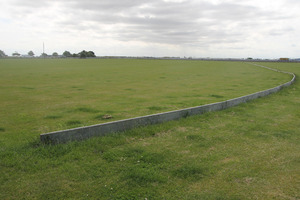 A proposal for a major new sports hub at Canterbury Agricultural Park, Wigram, is being looked at by the city council to help sports badly hit by the earthquakes.
Only in the concept stage at present, the South West Sports Hub is expected to include an athletics track and hockey and tennis facilities among its features.
"It is about an efficient and effective way to hub sports together for the benefit of the community," said a council spokeswoman. "It could be a multipurpose regional sports hub."
The sports complex would be sited at Nga Puna Wai if it goes ahead. At present this council-owned land is primarily car parking for the new showgrounds and is fully utilised only one week every year, in Show Week.
One of the sports which would benefit, hockey, regards the proposal as a "huge opportunity."
"It's now pretty well accepted by sports that we are going to have to share facilities, and I think the idea of a dedicated single sports facility is long gone," said Canterbury Hockey CEO Rod Templeton.
"We think this is a huge opportunity."
Hockey hoped a water-based turf could be established at the hub suitable for national league and international games which Christchurch can't host at present. At present it had only one, at St Bede's.
The last of three new artificial pitches at Nunweek Park became available this week, but the Nunweek pitches are not suitable for NHL or international play.
Next week hockey is also moving into offices at Nunweek, but the sport hoped eventually to have its administration at the South West Hub, he said.
The hub proposal was "everyone's plan A," he said.
However, not everyone is happy about it. Canterbury A&P operations manager Dugald Thomas said losing the area, where 5000 to 6000 cars can be parked, would be a huge blow.
And Riccarton-Wigram Community Board chairman Mike Mora said that as well as show parking, it was used at present for polo, riding for the disabled, and the Halswell Pony Club, which had agreed to relocate there when Halswell Domain expanded.
There were also rugby and league pitches at Canterbury Park, so it had a really good mix at present, he said.
"That's what we would like to see, rather than shunting people off in favour of another sport," he said.
"It's an initial proposal and we have raised concerns, and we just hope they are listened to."
Mr Mora also expressed concern about the way council staff went off and did things instead of consulting elected members.
"At present the horse is riding the jockey," he said. "And it's a lot worse than the tail wagging the dog."