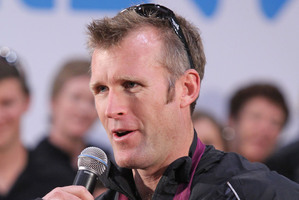 Mahe Drysdale's quest to right a four-year-old wrong produced a golden glow at the London Olympics.
The single sculler was odds-on favourite for the 2008 Olympic crown in Beijing. After all, he'd been world champion the previous three years and, while not unbeatable, was damn near it.
Instead he was laid low by a virus in the days leading up to the final and had to settle for a gallant bronze, having to be helped out of his boat.
So he was a man with a serious ambition when he arrived in London. He'd had to restructure his training regime to compensate for back problems, and a training accident on his bike a few weeks before London didn't help either.
But the tall Aucklander reached the final by the most direct of routes and once there, wasn't about to let his chance slip.
He was fourth early on but had his nose in front by halfway. It became a two-man contest from there, with the Czech Republic's hotshot Ondrej Synek duelling down the stretch with Drysdale. The two had shared the previous three world titles - Drysdale winning in 2009 and last year, his fifth time - Synek in 2010 at Lake Karapiro. They are the dominant figures in the discipline.
But by the end, the New Zealand man had it in hand, just, crossing in 6min 57.82s, Synek 1.55s behind with Britain's Alan Campbell third. Drysdale raised his arms, slapped the water and clasped his head at the finish.
"I had absolutely nothing in that last bit and I could see Synek coming at me. It was just a matter of trying to hold on."
He was loath to talk in terms of it being any form of redemption for Beijing.
"You learn from what happens to you. Beijing taught me a lot of lessons and you only get a couple of opportunities at this in your life so you've got to make the most of them," he said.
Drysdale's gold was New Zealand's 20th Olympic rowing medal, and ninth gold. He'll be 37 in Rio, should he choose to put himself in the single seat again. Time is certainly on 30-year-old Synek's side, but for one sunny day London belonged to Drysdale.
Selections so far
Valerie Adams
Shot put Olympic gold medallist
Jo Aleh and Polly Powrie
Olympic gold medallists
The Waikato-Bay of Plenty Magic
ANZ netball champions.
New Zealand Breakers
NBL champions
Nathan Cohen and Joseph Sullivan
Olympic gold medallists
The Chiefs
Super 15 champions
Hamish Bond and Eric Murray
Olympic gold medallists
Mahe Drysdale
Olympic gold medallist
Lisa Carrington
Olympic gold medallist
More to be named throughout the week