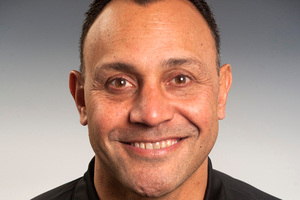 Black Sox coach Eddie Kohlhase has named his 17-player team for next year's World Championships in Auckland.javascript:%20void(0);
Veterans Jarrad Martin and Thomas Makea will be playing in their fifth world championships, with Donny Hale and Brad Rona taking part in their fourth.
The roster also includes world championship rookies Nik Hayes, Penese Iosefo, Tyson Byrne and Jerome Haretuku.
Aaron Stroman-Neemia and Wayne Laulu were members of the Samoa team at the 2004 world championships. Stroman-Neemia was also named in the 2009 Black Sox team, but had to withdraw for personal reasons.
Gone from the team that were runners-up to Australia at the 2009 tournament are Nathan Nukunuku, Marty Grant, Paul Walford, Gareth Cook and Stephen Ratu.
Next year's tournament will be held at Rosedale Park on Auckland's North Shore in March.
: Heinie Shannon, Patrick Shannon, Donny Hale, Ben Enoka, Jerome Haretuku (all Auckland), Penese Iosefo, Tyron Bartorillo, Daniel Milne (all Canterbury), Rhys Casley (captain), Nik Hayes, Tyson Byrne (all Hutt Valley), Aaron Stroman-Neemia, Wayne Laulu, Thomas Makea, Jarrad Martin (all Wellington), Brad Rona (North Harbour), Jeremy Manley (USA-based).
- APNZ