Richie McCaw says he doesn't captain a dirty team and reaction to the Wales incident he treats as just background noise.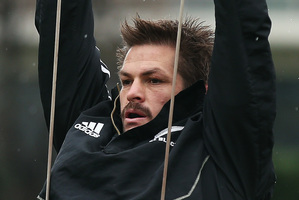 The All Blacks' reputation has taken a battering in recent weeks, but to skipper Richie McCaw it's very much background noise. He knows his side are not dirty, that the Andrew Hore and Adam Thomson incidents were not malicious, pre-meditated cheap shots because, says the 115-cap veteran, that is simply not the All Black way. Certainly not the way of the side he captains.
The hysterical reactions to Hore's clumsy challenge on Bradley Davies, which earned the hooker an eight week ban reduced to five, has neither perplexed nor outraged McCaw. The video evidence may not have looked good, Davies being left unconscious didn't look good but the senior All Blacks and management are all satisfied that Hore was trying to cleanout, or more accurately hook the Welsh lock out of the way of the impending ruck.
Hore says he was aiming for the shoulders, got the timing wrong, got the execution wrong and ended up clubbing Davies around the chops. It was clumsy and ill-advised, but not, as the judicial officer was happy to accept, a closed fist intentional strike to the head.
"I think if you ask all of the boys and certainly myself, I don't think that has got any place in rugby or in sport; you don't play the game for that sort of stuff," says McCaw on why it is important to him that he's not perceived to be captain of a dirty team.
"The odd things happens, I understand that because it is a contact sport. If you have got people going out there to deliberately take cheap shots, to beat people up or whatever, that's not sport and I would hate to be involved in a team that does.
"I don't know how I would have gone in a footy team in days gone by when it was part of the game ... and I would hate to have men in the team that are like that and I can honestly say that none of our team are like that. There are some hard buggers in there for sure, don't get me wrong.
"I am not saying we are always 100 per cent squeaky clean but they are rare things when they happen. I would be bloody disappointed to be in a team like that and I understand the perception is like that. But what can you do about it? The odd little thing probably adds some ammo. To be honest it is background noise, a bit like when people have a crack about the way you play the game. We are here to play."
McCaw, who has once again made the shortlist for the coveted IRB player of the year award, knows better than anyone in the world game what it is like to be the perennial victim of cheap shots.
The skipper has been specifically targeted 11 times in the past six years - been subjected to acts of foul play that have ended with the perpetrators being cited..
There were two particularly bad assaults this year - Dean Greyling using his forearm on McCaw's face in Dunedin and Scott Higginbotham head-butting and kneeing him in Brisbane. In both instances there was no retaliation or heated reaction from McCaw's teammates, suggesting that the All Blacks may have instigated a policy of consciously not getting involved when they see opposition foul play.
It's not quite that clean-cut says McCaw. "The first thing with the team is that you stand up for your mates - there is no doubt about that," he says. "If someone is having a swing don't worry, they [teammates] will be in there. But if it is a one-off whack and it is finished, there is no point going in there.
"Guys understand that if you see a cheap shot and the whistle has gone and it has been in front of the referee, there is no point - you are just going to make yourself look stupid and that doesn't help the team and you as an individual are going to lose out and end up on a little holiday as well.
"As a team we certainly don't go out looking for that sort of stuff.. But you have got each other's backs if you need to.
"As I say there is no point when the referee sees it, it does nothing, we need to play the game and what do you achieve by having a swing at someone? Not a lot ... nothing. Wait until that guy gets the ball next and smash him in the tackle, make sure he gets cleaned out that way."