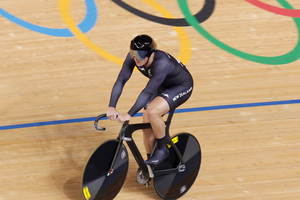 Eddie Dawkins had sore legs for weeks after the London Olympics - not from training but because he had to walk everywhere.
Top cyclists don't like walking when they can ride, and Southlander Dawkins is no different - although he isn't quite at the level of his namesake, the great Eddy 'the Cannibal' Merckx, who used to complain of leg pain when he was forced to cycle slowly rather than devour his rivals.
Enforced break over, and with two months' solid training done, Dawkins is looking forward to getting on the track again at this week's Oceania Track Championships in Adelaide where he will race in the keirin, kilo, sprint and team sprint.
Dawkins' schedule begins tomorrow with the team sprint qualifier - alongside Aucklanders Sam Webster and Ethan Mitchell - against Australia.
It's the first time the 23-year-old has joined his teammates since the Olympics, a dramatic few days when he went from the low of making an error in qualifying for the team sprint to the high of helping set a new national record in the ride-off against France.
In the individual sprint he qualified ninth fastest then lost his first round and repechage.
"It took a toll on me, I guess," Dawkins said of his Olympics experience. "Probably the hardest thing was being at home and not be able to ride [afterwards]. I was so used to riding every day for four years pretty much and being told you're not allowed to ride for a month, I got itchy feet.
"[But] if you don't have time off you get stale and it dampens the next season. I got sore legs because I had to walk everywhere and I'm not used to walking. It was a bit hard on the joints."
He was also hard on himself at London after his momentary lapse in concentration at the start of the team sprint qualifier allowed lead-out rider Mitchell to get too far ahead and valuable time was lost. Dawkins told the media he banged his head against a wall in an "emo moment" to rid himself of the disappointment and frustration.
"I did [dwell on it] for the period between that race and the next one, but after I redeemed myself I put it out of my mind and just said to myself that I'd done all that I could and decided to move forward."
Missing for New Zealand in Adelaide will be Simon van Velthooven, who is riding the Japanese keirin circuit along with top Australians Shane Perkins, Scott Sunderland and Jason Niblett, and Dawkins believes those who rode at the Olympics could be vulnerable this week.
The championships carry qualifying points for world cup and world championships next year, but New Zealand has sent few of its heavy hitters apart from Dawkins and his fellow sprinters.
"The development riders from Australia will be hard to beat. They're only a little bit behind the Olympic riders but they're fresher."
With London behind him, the road to Rio starts in earnest in the next few days.
"It shows us we can achieve it. We were only a young team when we went to the Games and we'd only been together for two years, at Rio we will have had more training and more experience so I'd expect us to at least as well as at London."
- APNZ