One punch gave Shane Cameron a chance to fight Danny Green for a world title. Paul Lewis wonders if he can do it again.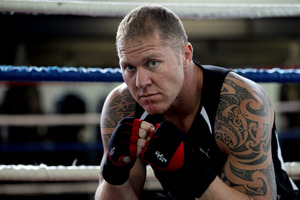 Shane Cameron isn't just fighting for a world title in Melbourne on Wednesday night.
He can rewrite history and set up a whole new future.
Beat Australian Danny Green for the vacant IBO "world" cruiserweight title and Cameron will become the first New Zealand-born fighter to land a world title behind the only other male Kiwi-born boxer to win one: "Torpedo" Billy Murphy, who won the world featherweight title in 1890-122 years ago.
Other New Zealanders have won world titles but they (Bob Fitzsimmons, Maselino Masoe, Jimmy Thunder) were born overseas, though Daniella Smith (former IBF women's welterweight world champion) was born locally.
But, if bridging 122 years is important, Cameron has an even greater incentive - a bridge towards an international cruiserweight future that could really put him on the map.
That's why this fight, against a Green seemingly set on retirement, is so important for Cameron and why he could light up the New Zealand boxing scene if he wins.
Earlier this year, boxing promoter David Higgins said Cameron was "one punch away" from a world title fight after Cameron's surprise - and complete - victory over heavyweight Monte Barrett, the man who effectively pushed David Tua back into retirement.
Higgins was talking about the heavyweight division and Cameron earning an eliminator bout for a shot at champion Wladimir Klitschko - one half of the brotherly duo (with Vitali) who have reigned supreme and stifled interest in boxing's premier division.
"He did so well," said Higgins of Cameron this week. "He won that fight with one punch; it was a punch that boxers dream about - it was beautifully thrown, timed well and he caught the other guy coming in. It was a rare thing, a one-punch knockout. If you study some of the great knockouts, it is usually a flurry of punches that leads to a knockout; it is quite rare to see a fight ended with just one clean punch."
Wrong weight division and wrong opponent but Higgins, who was speaking before the Green fight was arranged, got it right with his prediction.
Green is 39 (Cameron 35) and, unusually for a top boxer, Green has been talking of retirement before taking on Cameron for the vacant IBO crown left open by Antonio Tarver's suspension for performance - enhancing drugs.
Boxing is full of statements which never amount to anything but Green has been hinting at retirement for a while. If so, that kind of talk can pull away at the threads of a boxer's psyche, leaving him without the required reserves of steel, vulnerable to a sustained attack from an opponent.
The final sit on the stool can seem awfully appealing. Having said that, Green is still a clever and fast fighter and will start favourite in his native Australia. It is also noticeable that Anthony Mundine and Daniel Geale are staging their IBF world middleweight title bout (Geale is the champion) in Sydney in January.
It is six years since Mundine and Green fought in a bout that ignited Australian boxing, drawing a record audience and purse.
If Mundine was to win against Geale, a repeat of the Mundine-Green super middleweight clash of 2006 (Mundine won then) could be on the cards and could be another huge money-spinner.
"I think Shane Cameron has a really credible shot at this title," said Higgins, who promoted the Cameron- Barrett bout but who is not involved with Green vs Cameron.
"He really does seem to be at his best; his fitness, his general attitude and his confidence are all right up there. He was in the wilderness a bit before Barrett. Green is a little older, has probably slowed up a bit; Shane is bigger and more powerful."
Cameron has spent most of his recent years as a small-ish heavyweight and it's the cruiserweight division that could prove really valuable for him. The division was created so smaller heavyweights would not have to fight the modern behemoths - and also so boxing's various organisations could garner more champions and money.
Boxing has created its own lack of credibility with too many organisations, champions and titles. It's made worse by the advent of "super champions".
For example, the WBA (one of boxing's "big four", along with the WBC, IBF and WBO) has 17 weight classes, yet managed to crown 37 world champions at the end of last year.
A "super champion" is created when a boxer holds more than one of the big four belts. When David Haye lost to Wladimir Klitschko, Klitschko was already IBF, IBO and WBO champion, so the WBA installed him as "super champion".
They then sanctioned a match between Ruslan Chagaev and Alexander Povetkin for the regular title, meaning Povetkin was the WBA heavyweight champion after he won that bout.
The IBO are not one of boxing's biggest organisations nor the most credible but their past cruiserweight titleholders are not to be sniffed at. They have included Thomas Hearns, Tomasz Adamek, James Toney and Tarver, plus Green himself.
When Tarver beat Green for the IBO crown, hedid so with a fineall-round display of boxing and power which belied his 43 years - before he was suspended for drugs. The IBO invited Green, as the former champion, to help fill the vacancy and the fight with Cameron was brokered.
Neither Green nor Cameron figure high on the ranking lists of most boxing organisations. Neither are in the top 15 of the WBA, WBC or IBF, while the WBO ranks Green 14th and places Cameron as the 11th-ranked heavyweight in the world.
That's why world titles are often written "world" titles. Even on its own computerised rankings (which it hails as objective), the IBO ranks Cameron 7th cruiserweight in the world and Green 11th.
Perhaps most objective is The Ring magazine's rankings, which includes neither in its top 10 cruiserweights. If he wins, Cameron has the option of heading to the US or Europe to fight - but that path has been trod by self-publicists like Mundine, to little avail.
Beating Green will beat no big drums in the US. However, the Tua-Cameron fight in 2009 proved that big-money, big-audience fights could be staged in New Zealand.
Cruiserweights fromother organisations include champions Marco Huck (WBO), Krzysztof Wodarczyk (WBC) - who also beat Green recently to defend his title - Guillermo Jones (WBA), Dennis Lebedev (WBA), Cuban Yoann Pablo Hernandez (IBF) and well-performed American BJ Flores, whom Green beat in 2010 to defend the IBO title.
Cameron's future could see such fighters coming to New Zealand, if the money was right, for a bout which could unify two belts or attract an undeniably world-ranked contender, such as US-based Nigerian Lateef Kayode, who complained he should have been fighting Green for the title after taking Tarver to a draw before his drugs suspension.
But first . . . Danny Green.