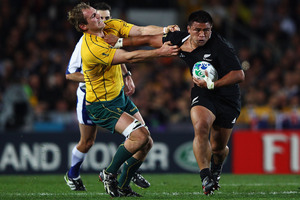 They used to be giants, chosen for their scrum-splitting ability. The evolution of hookers, led by the All Blacks, has created a different beast - athletic ball-controllers, ball-carriers and ball-stealers - giving New Zealand a competitive edge.
Thanks to hookers like Keven Mealamu and Andrew Hore, the position has changed and arguably no one in world rugby fills the new role better than they do. Mealamu played his 101st test overnight against Italy and clocks up 10 years as an All Black this week. Andrew Hore played his 73rd test against Scotland last week - and the selection of Dane Coles can be seen as an effort to keep the hooking evolution on track.
Gone is the brutal scrum-power of hookers like England's Steve Thompson and South Africa's John Smit, the respective starting hookers of the 2003 and 2007 World Cup winners. Mealamu, Hore and now Coles clock in below 110kg and all are a mix of fourth-loose-forward mobility, ball-running, ball-snaffling and lineout accuracy. Thompson and Smit generally threatened 120kg and beyond - with 10kg making a big difference in today's high-paced, multi-phase game.
Former All Blacks selector Peter Thorburn says scrums punctuate the modern game less, meaning hookers have to be picked on a wider skill set.
"Hookers have to match flankers and the No8 by being quick away from scrums and lineouts and possessing all-round skills. That's why Coles has the edge over Hika Elliot at the moment; he is a more productive and explosive ball runner. Elliot tends to die with the ball too often and has become too readable. Smaller, mobile hookers can be handy in that regard. The Frenchman Dimitri Szarzewski plays in a similar vein; a terrific ball-carrier.
"Whether Mealamu and Hore play the next World Cup is debatable, not because of ability but because wear-and-tear could get them. Coles has convinced me there is still a conveyor belt of good, mobile hookers out there."
"I think mobility and throwing accuracy almost come first these days when picking a hooker because games can go 20-30 minutes without a scrum. Even props need to be picked on a different skill set as lifters and clean-out men rather than pure scrummaging.
"It doesn't mean you can afford to go into a test with an inferior scrum but fortunately, the All Blacks have Mike Cron as a scrum coach who knows those details in depth."
Nine-test All Black Norm Hewitt loves what Mealamu and Hore offer the All Blacks as a point of difference: "They still do the core duties well; they're in the tight burrowing, stealing and ripping ball. That remains a key role, especially as the game evolves further into a rugby league-style defence with more players in the line and less in contact.
"Mealamu and Hore have got speed too, something the coaches will look for from Coles. In fact it's almost been an evolution across the whole forward pack, looking for more athleticism. Players even wear GPS units to monitor it in training these days. Any way you can refine or enhance someone's performance by a few centimetres or 0.1 of a second, you've got an advantage. We saw that at the World Cup.
"The lineout has also changed. When I started it was simply between you and the jumper, now it comes down to a co-ordinated effort. Hookers need to make adjustments for tired lifters, which could be half a foot as the game progresses. Throwing into that is a skill to be considered."
Hewitt played provincial and international rugby from 1988-2001, when hookers became bulkier to cope with the demands of the scrum.
"They still talked about us being the fourth loose forward. That hasn't changed but when I started we were moving from an era of smaller hookers such as Hika Reid and Andy Dalton into the likes of Australian rake Tommy Lawton. [At around 120kg] he was one of the biggest, toughest scrummagers I played by virtue of sheer size. He wasn't mobile but packing down against him was like hitting one of those D8 Caterpillar bulldozers. Sean Fitzpatrick was a cut above because he could blend both aspects; a good scrummager capable of running with the ball in hand and throwing accurately."