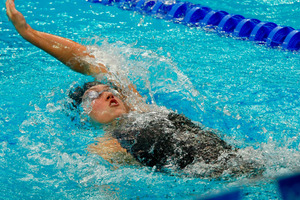 Experienced New Zealand swimmer Melissa Ingram led a four-medal haul for the Kiwis on the first night of the final leg of the FINA World Cup in Singapore today.
The 27-year-old grabbed her fifth victory of the series with an emphatic win in the 200m backstroke, with medals also earned by fellow Swimming New Zealand High Performance Centre athletes Glenn Snyders, Matt Stanley and Mitchell Donaldson.
Ingram, coached by Scott Talbot, moved into the top 10 females on overall points in the FINA Arena World Cup, winning the 200m backstroke in 2:04.93 which is fourth victory in the last five outings over the distance. She was always in command, opening nearly a one second advantage at the halfway mark, and while Germany's Jenning Mensing closed the gap at 150m, the New Zealand saved plenty in reserve to power home.
She also finished fifth in the final of the 200m freestyle won by overall series leader Katinka Hosszu (Hungary).
Snyders (North Shore) earned his 14th podium placing of the series, edged by Australian rival Christian Sprenger in the final of the 50m breaststroke by just 5/100ths of a second, timed at 26.74. The pair will do battle again on the final night of 100m breaststroke.
Matt Stanley (Matamata) finished second in the 400m freestyle behind Australia's Robert Hurley clocking a solid 3:42.17 while clubmate Mitchell Donaldson was third in the 400m individual medley in 4:15.98 won by South Africa's Darian Townsend.
Donaldson was also fifth in the final of the 200m breaststroke, West Auckland's Jessica Marston was eighth in the final of the 800m freestyle won by Hosszu and Taranaki's Dylan Dunlop-Barrett was seventh in the 400m individual medley.
The series concludes in Singapore tonight.
Results, day 1 finals:
800m freestyle: Katinka Hosszu (HUN) 8:21.94, 1; Alanna Bowles (AUS) 8:22.70, 2; Jessica Pengelly (RSA) 8:22.81, 3. Also: Jessica Marston (NZL) 9:07.68, 8.
50m breaststroke: Christian Sprenger (AUS) 26.69, 1; Glenn Snyders (NZL) 26.74, 2; Igor Golovin (RUS) 27.43, 3.
400m individual medley: Darian Townsend (RSA) 4:09.24, 1; Travis Mahoney (AUS) 4:09.75, 2; Mitchell Donaldson (NZL) 4:15.98, 3. Also: Dylan Dunlop-Barrett (NZL) 4:19.84, 7.
400m freestyle: Robert Hurley (AUS) 3:41.01, 1; Matt Stanley (NZL) 3:42.17, 2; Jarrod Killey (AUS) 3:43.92, 3.
200m backstroke: Melissa Ingram (NZL) 2:04.93, 1; Jenning Mensing (GER) 2:05.74, 2; Hosszu 2:07.80, 3.
200m breaststroke: Sean Mahoney (USA) 2:06.17, 1; Sprenger (AUS) 2:06.98, 2; Jeremy Meyer (AUS) 2:08.72, 3. Also: Donaldson 2:14.69, 5.
200m freestyle: Hosszu 1:53.57, 1; Angie Bainbridge (AUS) 1:54.28, 2; Zsuzsanna Jakabos (HUN) 1:54.34, 3. Also: Ingram 1:57.81, 5.
- APNZ