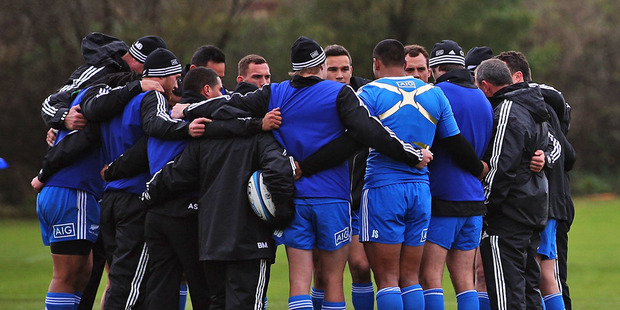 The All Blacks have inflicted their ruthless streak on themselves since arriving in Scotland with a view to making an emphatic statement at Murrayfield on Monday morning (NZT).
Their previous performance has been a festering sore - that disjointed, erratic effort in their last test against Australia three weeks ago has brewed discontent and frustration within the camp.
It's obvious the All Blacks are simmering with self-loathing at the way they played against the Wallabies on October 20. They haven't forgiven their casual disregard for ball retention and other basic tenets of the game and won't do so until they have made amends with a performance in which they can be proud.
The intention, obviously, is to deliver that performance in Edinburgh and the analysis of the 18-18 draw in Brisbane has formed the basis of most of this week's planning and preparation. The problems have been identified and solutions are now being applied and the All Blacks took what they hope is another step towards restoration of normal service with their first outdoor, full-blooded training in the Scottish capital.
An hour-plus session in the icy rain was intense and dynamic and reflective of the fact that, regardless of what history and world rankings say about the likely outcome on Monday, the All Blacks know they will only deliver the performance they are after if they are clinical and accurate.
"We are coming off a pretty poor performance,'' said assistant coach Ian Foster.
"We have spent a few days searching for answers why we had a bit of a hiccup at Brisbane. Our focus at this stage of the week has been on ourselves and we believe we have a couple of steps to climb to get to the levels that we want.
"We have got to make sure we get the ingredients right and don't peak too early.''
The All Blacks will focus more on themselves than the opposition this week, which might confirm in some minds that they don't see the Scots as a serious threat. That's not it all, though.
The theme of 2012 has largely been about self-improvement and taking individual and collective performance to a higher level. No one in the All Blacks camp doubts Scotland are capable of an upset. In 2010 the All Blacks trounced the Scots 49-3 only for the Celts to bounce back seven days later with victory against South Africa.
Carelessness and complacency cost tests and the All Blacks are in no danger of being either - they simply believe that if they have clarity about how they want to play on Monday and reach their own performance expectations, then the result will take care of itself.
"The real fear is us not playing to the level we want,'' Foster said. "We don't want to lose but we are also like any other international team in that we want to play to a high level and perform great every week. We were pretty disappointed by our last performance and we see the first two games of this tour are really a chance for us to get two great performances on the park.''