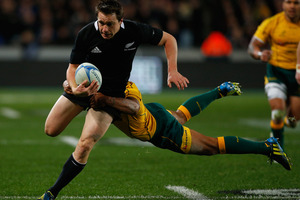 Scotland have been doing it tough ... because of injury.Those shod in brogues with a burr in their voice delight in warning us about the perils of rugby in Scotland.
Latterly that has been more about the conditions you might encounter at Murrayfield or the post-match social dangers.
There has been little to scare the All Blacks since the early 90's when men like the Hastings and Milne brothers, David Soul, John Jeffrey, Finlay Calder and Gary Armstrong gave it a decent shake for the tartan terrors.
The teams have met 28 times in tests with stalemates in 1964 and 1983 and the rest in favour of the men in black.
Nothing suggests there will be any momentous celebrations from the Scots when they tangle with the All Blacks in the first test on Monday week.
But there might be a blip on the radar with little-credentialed Frenchman Jerome Garces to take charge of this test under the new laws.
The biggies are the changed "crouch touch set" scrum sequences and the use it or lose it five second rule for rucks.
Neither should worry the All Blacks, who want to play an up tempo style and have worked hard on everyone being multi-skilled to deal with the many components in a quicker contest.
How Garces reacts to this assignment will be part of the fascination of the All Blacks' first Northern Hemisphere start under Steve Hansen.
Scotland have been doing it tough with a clutch of senior men including Joe Ansbro, Chris Cusiter, Rory Lamont, Nikki Walker and Alasdair Dickinson not available because of injury.
They have only been in training camps after three months of inactivity since they toured Downunder in June.
Coach Andy Robinson is buoyant though about building on the work his side completed when they beat the Wallabies, Fiji and Samoa on that trip.
They have a new captain, flanker Kelly Brown and know they have to ramp up the physical clout in the side to compete with the All Blacks.
The All Blacks then play Italy, Wales and England and while they miss France on this tour they will host the beaten World Cup finalists three times next June as the entree to the second Rugby Championship.
The June schedule begins in Auckland then moves to Christchurch and New Plymouth before Wellington, Hamilton and Auckland host the domestic Rugby Championship tests with Dunedin the final home venue for the third Bledisloe Cup test against the Wallabies.