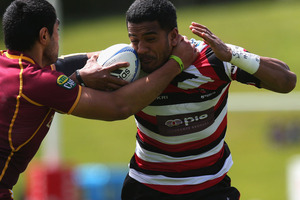 Counties Manukau 46 Southland 23
Counties Manukau scored four tries in the final 11 minutes to end Southland's season and claim hosting rights for the Premiership final next week.
For 70 minutes it was a gripping encounter as both sides looked to stake their claim in next Friday's final, before Counties romped home in an amazing display of running rugby in the closing stages.
Trailing 20-6 shortly before halftime, Counties outscored the visitors 40-3 to book a spot in next week's final where the Championship's top seed will host Otago to play off for a spot in the 2013 Premiership season.
Southland held a 23-22 lead with 12 minutes remaining but they couldn't do anything to stop the home side as Rey Lee-Lo dotted down twice along with tries to Tony Pulu and DJ Forbes.
The home went out to an early 6-0 lead courtesy of two Baden Kerr penalties.
However some risky play from deep inside their half saw Southland's Tim Boys turn the ball over five metres out and the visitors simply spread the ball wide where halfback Tayler Adams dived over in the corner. Scott Eade converted out wide to give Southland a one point lead.
Back-to-back penalties from Eade took Southland out to 13-6 but they were dealt a double blow when Hoani MacDonald was stretchered from the field and a hamstring injury forced Kade Poke out of the game.
Despite the injury blows Southland kept the points coming as a Cardiff Vaega midfield break set up fullback Marty McKenzie for the visitor's second try. Eade converted from in front to put Southland out to a 20-6 lead.
The home side finally scored their first try one minute before halftime, which came in typical Counties fashion as they spread the ball and made the most of open space in the scrambling Southland defence as Sherwin Stowers ran uncontested over the line for his seventh of the season, making it 20-11 at the break.
After taking 39 minutes to score in the first half, Counties needed just two minutes to cross over once again when Bundee Aki collected a finger tip pass from Tony Pulu to score straight after halftime.
The sides traded then penalties as Southland retained their one point lead before Eade missed an easy chance in the 68th minute which would have put his side out to a 26-22 lead.
From there it was all Counties as they scored 26 points in the final 11 minutes, outscoring Southland 37-3 in the second half, booking a well deserved spot in the final.

Counties Manukau 46
Sherwin Stowers, Bundee Aki, Rey Lee-Lo 2, Tony Pulu, DJ Forbes tries. Baden Kerr 4 pens 2 cons. Nani-Williams con.
Southland 23
Tayler Adams, Marty McKenzie tries. Scott Eade 3 pens, 2 cons.