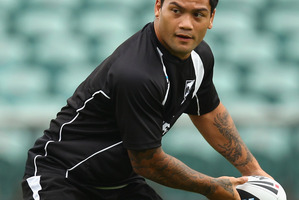 Plenty of labels attach themselves easily to Issac Luke.
Rabbitoh. Kiwi. World Cup winner. Part-time boxer. Survivor. Mischief. Little s***. (Those last two are his.)
But the label he's most proud of is dad.
"I always wanted to be a dad," says the now father-of-three. "That was my first dream, to be a dad. It came at the right time and it kept me going, it was my motivation."
In many ways, the arrival of first son Adaquix saved his career. Just 19 at the time, Luke was suffering from an illness that can hit young Kiwis when they cross the ditch chasing the footy dream: homesickness.
After two years with the Bulldogs he'd had enough. He wanted out. Fatherhood changed that.
"My first reaction was to make money for him," Luke says. "So I went to Souths on a summer contract. I made my debut that year and it has gone from there."
Many others did not make it. Of a mob of talented mates who grew up in the small Taranaki town of Hawera chasing footy dreams, Luke and Hurricanes back Jayden Hayward are the success stories.
"We all grew up having the same dream. When Jayden made Super 14 it was like the whole town made it. We take that on our shoulders. So when I make it, everyone makes it.
"I have a lot of talented family members who could have come this far. But like a lot of Kiwis they often have something bad happen to them and they sort of get spooked, or they just don't have that kind of commitment.
"When they first fail they think it is the end of the world. But the only way to get up is to keep going.
"I wanted to go home. I'd had enough. That's a common thing with Polynesian boys. When they come over to the big smoke all they think about is family and if the family don't get to them, then they go back to the family."
Chatting with Luke is a refreshing experience. He is utterly without pretence. Whatever comes into his head comes out his mouth.
No doubt that trait has contributed to his uneven experience as professional footballer. Lows, such as trying to break cousin Rangi Chase's leg in a test match, have always tended to accompany the many highs of the 21-test Kiwi.
The 2012 NRL season was another roller coaster affair. He played well for a bit, played badly for a bit, broke some team rules, got dumped to reserve grade and then fought his way back.
Tomorrow night he will be back in his happy place, starting a test for the Kiwis at hooker. Playing for his country means everything to Luke. He tends to brood about his selection prospects, and he hates being dragged off the field for a rest.
When that happens tomorrow night the man coming on will be another Hawera-born player, Elijah Taylor. Luke thinks that's pretty cool, but it will still annoy him.
"I am not a big fan of coming off. But they [the coaches] see more than what I feel out there. I'll feel all right but if they see me slacking and pull me off it is for a reason."
There's clearly a difference between accepting something and liking it. Luke is getting better at the former, but you get the sense he'll never be much chop at the latter.
When the Dictaphone stops, I let on that I have four kids.
"Man, that's cool," he says. "Being a dad is cool."