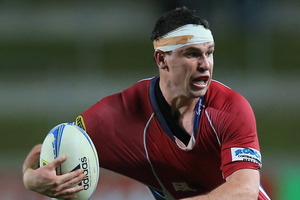 Tasman 17 Bay of Plenty 3
Sometimes it's difficult to know in this year's ITM Cup crossover game which is the Premiership team and which is the Championship team and that was again illustrated tonight in Nelson.

Tasman were worthy winners over Bay of Plenty, building a commanding halftime lead and driving a dagger into the Steamers' chances of Premiership survival.

They were hungrier, more accurate, more creative and, crucially, more clinical as they arrested a three-match losing streak.
They have threatened to win more games this season, like last week's 20-19 defeat to new Ranfurly Shield holders Waikato, but not quite made it stick. That changed tonight.

This was a big result. Tasman, who started the night third in the Championship, were chasing a home semifinal while Bay of Plenty were intent on Premiership survival.
Coach Kevin Schuler even said beforehand the match was something akin to a "grand final'' for them to ensure they stayed in the top flight.

With their final round robin game against Canterbury in Christchurch next week and Hawkes Bay with two games in hand, that is far from guaranteed.

Tasman are in good shape to make the playoffs and have made good progress since their creation as a union in 2006.


They aren't a team of stars but have a good work ethic and effective game plan. They attempted to spread the ball against Bay of Plenty, looking for mismatches or overlaps, and made a number of linebreaks through the likes of wing Peter Betham and No 8 Jordan Taufua.

They built a handy 17-3 lead by halftime through tries to Tom Marshall and Quentin MacDonald but the Steamers botched a try of their own when Nick McCashin dropped the ball with the line open.

Bay of Plenty enjoyed a better spell of territory and possession early in the second half as they looked to keep the ball tight in their forwards. It didn't make for much of a spectacle but, with their season on the line, they needed to play to their strength.

The only problem was they couldn't score. Tasman's defence was far too good for that as they soaked up considerable pressure in a scoreless second half.

Tasman are now the first Championship team to score two wins over Premiership teams this season. They will now hope they can push on to join the big boys in 2013.

Tasman 17 (Tom Marshall, Quentin MacDonald tries; Marshall 2 cons, pen)
Bay of Plenty 3 (Nick McCashin pen). HT: 17-3.

Play Jimungo Virtual End of Year Rugby Tours
Compete for prize money and bragging rights in Jimungo Virtual Rugby Tours - our game for the end of year international rugby matches. Simply choose the winning team and margin. Sign up now.
- APNZ