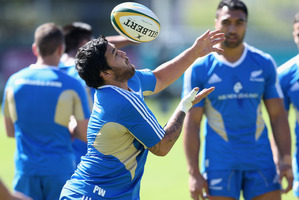 Imagine All Black coach Steve Hansen addressing his troops before training this week in Soweto. He would do well to incorporate a few ideas from his famous predecessor Alex Wyllie.
Grizz was fond of curt reminders, a man content to deliver one expletive-riddled sentence where other coaches laboured over six.
If Wyllie's teams faced new issues or different surroundings, he would send out simple messages as he did when he coached Canterbury, who were 0-24 adrift to Auckland at halftime in their 1985 Ranfurly Shield defence.
"Here's what the ... ball looks like," he gestured, slamming the leather into the Lancaster Park turf, "get it and use it."
Over in South Africa this week, Hansen should present a similar brisk reminder to his troops about Soccer City or "The Calabash" as the locals refer to their sports arena.
Something along the lines of "it's still a rectangle, the same everywhere we play, no dramas" would suit.
You suspect Hansen might do something like that because pithy observations have become standard in his regular season interaction with the fourth estate.
He will also be mindful that a few of the squad might be feeling a little uneasy about this final Rugby Championship test in Soweto.
The All Blacks have played at the ground twice, edging to victory in the first combat against the Springboks in 2010 with two tries in the last three minutes before being thumped 18-5 last season.
Only Israel Dagg from that backline with Liam Messam, Sam Whitelock, Tony Woodcock and Keven Mealamu in the pack are likely to play this week.
The core of the All Blacks rested that week at home before joining the group once more for combat against the Wallabies in Brisbane.
It was all part of a strategy to sift the All Black contenders and have them primed for the World Cup.
The long-term idea worked out but there was some short-term pain with defeats in both Soweto then Brisbane.
This time the All Blacks appear to have all their troops available.
Hansen and his team will not want to let this chance slip.
Victory will place a touch more pressure on the methods of Heyneke Meyer and will deliver a 16th straight win for the All Blacks and one shy of equalling the tier one nation record held jointly by the All Blacks of the 60s and Springboks of the 90s.
The All Blacks from 1987 to 1990 went 23 tests and 50 games without defeat but that run included a 19-all stalemate against the Wallabies in 1988.
Mentioning the record is not taboo but any signs of thinking beyond Soweto will provoke brisk instructions from Hansen.

Play Jimungo Virtual End of Year Rugby Tours
Compete for prize money and bragging rights in Jimungo Virtual Rugby Tours - our game for the end of year international rugby matches. Simply choose the winning team and margin. Sign up now.