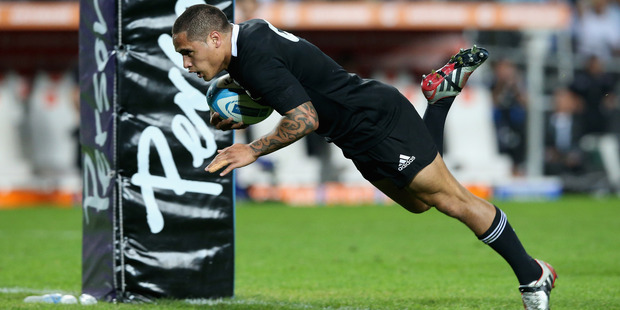 In his first year with the team, All Blacks' halfback Aaron Smith has experienced many of the highs and lows of test rugby and has settled on a new plan - don't get ahead of yourself.
Talking after he controlled things superbly in the No 9 jersey against the Pumas on Sunday, the 23-year-old said the need to stay focused and "the now" was the biggest lesson he had learned.
Three weeks earlier, against the same opposition at Westpac Stadium in Wellington, he was replaced after a below-par first-half performance, and compounded things by missing a curfew that night.
"The biggest part of being with this team is the challenge ahead and each week looking at the challenge. Definitely for me looking back it's been a pretty exciting year but it's also about just trying to stay in the now," he said.
"Going to Soweto and playing the Africans over there, it's going to be an amazing challenge. So I just have to stay in the moment and try not to get too ahead of myself.
I got a little bit ahead of myself earlier and got in a bit of trouble."
Smith's sharpness of pass is undeniable, but his running game has also improved during the past few weeks.
Dropped to the bench for his mistake in Wellington, against the Springboks in Dunedin he darted from an attacking ruck and scored a memorable individual try.
At the Ciudad de La Plata stadium in Buenos Aires last weekend he finished off a similar break by Ma'a Nonu.
As a result of the threat he possesses with the ball, and the effort put in by the forwards, the backs scored all seven of the tries and some of the movement was the best it has been all year.
"It was just great to start again, get a bit of game time and get a few things going which showed what we're capable of," Smith said.
His rise to prominence has been one of the biggest features of the All Blacks play this year, as he has given them a different edge on attack with his speedy distribution.
The Feilding product displaced Jimmy Cowan as the first-choice halfback at the Highlanders for this season's Super Rugby campaign and he hasn't looked back.
Smith represents the new breed of halfbacks that have flooded the New Zealand rugby landscape this year, with Waikato's Tawera Kerr-Barlow and Wellington's TJ Perenara - although he is currently injured - both putting pressure on All Blacks' coach Steve Hansen to be selected for national honours.
Piri Weepu has filled the bench spot behind Smith for a majority of this year's test matches but there's a good chance that three halfbacks could be taken on the end of year tour, which would be an ideal time to give Kerr-Barlow a chance.
* Patrick McKendry flew to Argentina courtesy of LAN Airlines (www.lan.com).

Play Jimungo Virtual End of Year Rugby Tours
Compete for prize money and bragging rights in Jimungo Virtual Rugby Tours - our game for the end of year international rugby matches. Simply choose the winning team and margin. Sign up now.
- APNZ