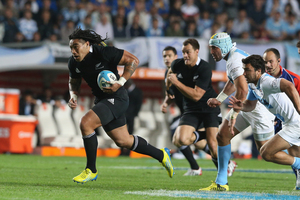 The first thing Steve Hansen did before starting his press conference the day after the All Blacks' big win over Argentina was to remove the Rugby Championship and another match trophy from the top table.
"Keep it grounded," he said before telling of his satisfaction with his team heading into the final match of the competition against South Africa in Soweto on Sunday morning.
The All Blacks were definitely grounded for the Pumas. They prepared as well as they have all year, and that was reflected in the seven tries to two 54-15 victory over an Argentine team which competed well, despite the scoreboard suggesting otherwise.
Next up are the Springboks, who showed in the 31-8 win over Australia in Pretoria that they will need similar respect in front of an expected crowd of 70,000.
Now that Heyneke Meyer has finally dispensed with Morne Steyne at first-five, his replacement 20-year-old Johan Goosen rose to the challenge superbly.
Hansen and his men know that with the talented Goosen running the show, the previously staid Boks present a different threat altogether.
"I guess at home they're a different of beast and we expect a typical battle. I guess we'll get the same sort of crowd at Soweto [as in Buenos Aires]. It's going to be awesome to play next week," said No 8 Kieran Read, who took over as captain when Richie McCaw was replaced in the final quarter of the match at Ciudad de La Plata stadium.
Hansen added: "Playing South Africa in South Africa is obviously tough, especially when they're coming off a big win. They'll be confident. They've made some changes to their team, and as a result of that they've changed the way they play slightly which has improved them.
"The venue we're playing at has its own cauldron as well. We've been there before and we know that with 70,000 people it will be very much like it was on Saturday night here." [Buenos Aires]
The All Blacks got on to the plane for Johannesburg today (Mon) happy with their preparation in Buenos Aires, a traditionally difficult place for them to play, which as a result had them firing for the match which was one of their most complete performances of the season.
"Probably the coaches got it dead right this week for the first time in a while," Hansen said.
"Our structure at training improved a bit too. We learned from previous weeks, and as a result we got a good performance."
More of the same will be needed this week when the All Blacks make their first trip from Argentina to South Africa for a match.
"A nine-hour flight, a lot of that time will be taken up eating and sleeping and the guys probably won't get enough sleep; and then we're up all day, so we've just got to be smart in what we will do in the first couple of days."
Hansen was happy with the way Luke Romano and Conrad Smith have recovered from their facial cuts.
"They're fine. They just look worse than what they are. They're bruised. The doc's done a very good job at stitching them up and maintaining their good looks. Once the swelling goes they'll be okay,"
He wasn't as complimentary about the dimensions of the pitch.
"The dimensions I wasn't overly impressed with. It was only 66m wide so a bit more width would have been good and it wasn't normal length, but the stadium itself was superb."
International rugby pitches must be no more than 100m from try line to try line, and no more than 70m wide.
* Patrick McKendry flew to Argentina courtesy of LAN Airlines (www.lan.com).
- APNZ