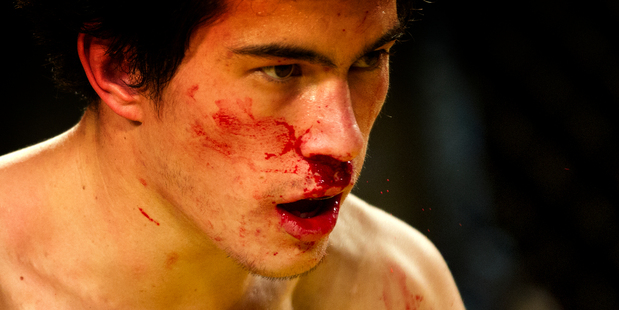 It's been a quiet night for Dave Beaver and his colleague Ian Gibson.
A former firefighter, Beaver runs a company that provides medical services to fight sports promoters. Security Medical Services caters for boxing, kickboxing, MMA cards, and has a sideline in personal security.
So far at ICNZ18, a 20-fight MMA promotion at the North Shore Events Centre, Beaver and Gibson have dealt with minor facial cuts, a lower leg sprain that might turn out to be a fracture, a finger strain, a fighter with blurred vision and one who damaged a toenail tripping over at the weigh in.
Just 13 seconds into the night's penultimate bout, life gets a whole lot more interesting for the medics.
Steven "Warzone" Warby lands a crashing right hand on Benji Kney's jaw, who goes down. Beaver and Gibson race into the Octagon, as does promoter Neil Swailes.
Warby, who has been celebrating capturing the ICNZ heavyweight title in exuberant fashion, realises he might have done some serious damage.
It seems an age but it's probably less than a minute before Kney begins to revive and struggles to sit up.
"He's okay," declares ring announcer Dan Hennessey. Kney's alive, but he's far from okay. Eventually he leaves the ring, his hands on Beaver's back for stability as he heads off.
"It's a tough one," shrugs Beaver. "Really, he should go to hospital."
Described in the fight notes as "one of the country's true hard men", it seems unlikely Kney will follow that advice.
The knockout is a stark reminder of the danger that accompanies the testosterone-rich fight sports environment.
With roots that stem from loosely controlled cage fighting promotions, MMA has a bad rap on the safety front. But is it really deserved? Not so, say those involved in the sport.
At the elite level, there has never been a fatality or catastrophic injury in more than 2500 fights under the UFC banner, which now includes Pride and Strikeforce.
"Every once in a while we've had a broken arm or a broken leg, the kind of stuff you might see in other contact sports," says Marshall Zelaznik. "But none of those life-changing injuries other sports might have suffered from time to time."
A study of 171 UFC bouts over three years performed by Johns Hopkins University School of Medicine found 40.3 per cent ended with at least one fighter suffering some kind of injury.
Just under 50 per cent of those injuries were facial lacerations, followed by hand (13.5 per cent), nose (10.4pc) and eye (8.3pc) injuries. The overall injury rate was comparable to other combat sports, but the knockout rate was lower than boxing, which translated into a lower risk of traumatic brain injury, the study found.
While the use of pointy, bony bits such as elbows and knees often make MMA bouts bloody affairs, the accepted wisdom is the increased target zones on the body combined with the use of submission holds and the option for fighters to quit by tapping out mitigates against serious injury.
"When you are grappling, choking or kneeing someone in the stomach and kicking them in the legs you are not punching them in the head," says fight commentator Mike Angove.
"Look, there have been and will always be rare tragedies, as there are in any contact sport or running marathons for that matter.
"There is an element of risk but, put it this way, I'd rather do MMA or kickboxing than boxing where the head is an exclusive target."
Unlike boxing, which is controlled under the Boxing & Wrestling Act 1981, there is no legislation governing mixed martial arts promotions.
A group of New Zealand's leading promoters have formed a loose coalition in an attempt to self-regulate - introducing boxing-style fighter books and mandatory stand downs for knock-out defeats - but as it stands there is little to stop people holding back-yard MMA events.
"Unfortunately until it gets legislated you are always going to have rogue promoters who do something underground," Swailes says.