Steve Deane traces the roots of mixed martial arts and looks at its place in the sporting landscape, including a close-up look at the burgeoning local scene.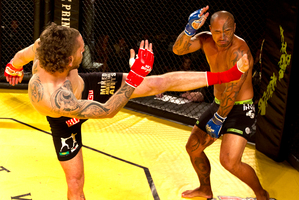 Four nights a week Ross Murphy drives from his home in Beachlands to the Ground Control MMA gym in East Tamaki.
As he enters the gym he sees a sign that says "park your egos at the door". Inside he'll join a bunch of folks from all walks of life who've been bitten by the MMA bug. Two nights a week they'll spend an hour honing their Brazilian jiu-jitsu skills, the other two nights they'll work on the rest of their MMA game.
A 36-year-old business manager, Murphy has been training at the gym for four months. He wishes he'd been doing it a lot longer. He used to run, but after suffering persistent injuries he turned to MMA mainly for the fitness benefits.
"It was something that I had always wanted to do but was too busy to commit," says Murphy.
"At first I was apprehensive due to the stereotype associated with MMA - that it would be a bunch of thugs doing it - but it's not like that at all.
Like that sign says, there are no egos. In the gym everybody is the same."
Murphy is typical of those who've been drawn into the world of MMA, says Ground Control coach and event promoter Neil Swailes. Whereas boxing and kick boxing are sports firmly rooted in the working classes, MMA attracts a more rounded following.
"It's quite varied," says Swailes. "It tends to be more - how do I say it without being nasty - more of an upper class, cleverer fighter than the boxing community. It's definitely a bit more high-brow. It seems to be cleaner."
Bankers, doctors and university students are among those taking up the sport. Some dream of being pros, some just like the training and self defence element and some, like Murphy, want to have at least one fight one day just to test themselves.
"Up until recently it has purely been a fight sport so people only trained if they were going to fight," says Swailes. "But the last two years it has gone into a fitness craze, so people are doing it purely for the total body cardio. They'll never fight but they'll support it and love it."
That groundswell of interest has translated into MMA gyms popping up all over the country. Last time Swailes did an official count over a year ago there were 45 gyms and 400 fighters. He estimates that number has grown to 60-70 gyms and 600-700 fighters.
"I started fighting back in 1998 and you could count the number of gyms on one hand and the number of fighters on two. Even in 2007 when we first started promoting we could only put on six fights for our first card. When we started we were the only group promoting it. Now there are six promotional bodies just in Auckland."
Out on the opposite edge of the city at Steve Oliver's gym it's the same story. Adults come to him from all walks of life, while he estimates he has 150-200 kids on his books who train at Brazilian jiu-jitsu.
"In a matter of five years it just went nuts," says Oliver.
"We get a lot of corporates who have spent their youth committed to making a dollar then they get to their mid-30s and think 'f***, have I got what it takes to take one in the face?'
"So they get in here and have a crack and learn a few skills. At the end of the day it's a pretty primal urge. You want to be able to look after yourself no matter how much money you have got," he says.
The sport may be exploding at grass roots level, but its emergence is still in the early stages, says former kick boxing champion and television fight sports commentator Mike Angove. While the likes of Oliver-trained fighter Brandon Ropati are making significant strides in the pro ranks, it will be some time before New Zealand regularly produces top flight pros.
"We are not quite in our infancy, we have grown from there, are heading to primary school, to give you an analogy," says Angove.
"We are only just starting to make some inroads. We are still pioneering in a lot of ways. You've got to take it step by step. We have got massive raw potential and our best guys are just starting to compete on Australian and Asian circuits and doing well."
Tomorrow
We follow John Harvey, John Vake and Phil Brown as they step into the Octagon.