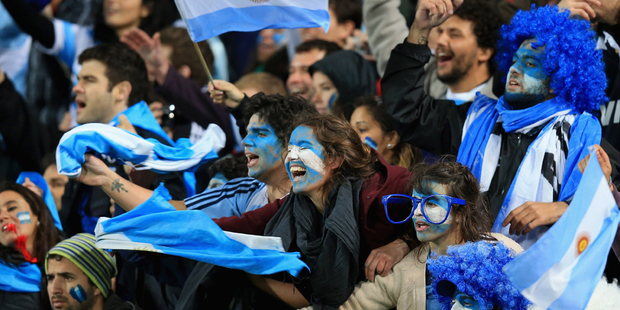 The All Blacks will know they are in for something different at the Ciudad de La Plata Stadium about half an hour before kick-off when the Argentina fans are likely to begin the type of raucous chanting almost unheard of in New Zealand.
The stadium at La Plata, a short drive south of Buenos Aires, is usually a football ground but on Sunday it will be given over to the Rugby Championship re-match. It will, however, reflect some of the flavour of football.
Steve Hansen's men will know what to expect game-wise as they received a taste of it in Wellington a fortnight ago - it will be an unrelenting, physical, slog - but they will also be warned about the intimidating atmosphere the Pumas supporters will create with their noise and passion.
Former All Blacks prop Dave Hewett's first test start was at the bigger Estadio Monumental Antonio V Liberti in Buenos Aires - or River Plate Stadium - in 2001, and his lasting memories are of the battle in the front row, an assault on a delicate area of his body, a narrow 24-20 victory, and the sense of occasion before kick-off.
"The atmosphere was electric, for want of a better term," he said. "They rolled [football legend Diego] Maradona out just before kick-off which whipped the crowd into a frenzy and I just remember the intense supporting nature of the crowd. It was a bit of a cauldron that's for sure.
"They scrummage similarly to the French and that's possibly because they've got a lot of guys in that Top-14 league and have done for a number of years. They're big men, they pride themselves on their scrummaging. It was a difficult day at the office."
In Wellington during their 21- 5 defeat to the All Blacks, the Pumas' scrum was solid, just as it was in the quarterfinal of last year's World Cup. But what has impressed many at the global tournament, and this year's inaugural Rugby Championship, is how the Argentines are so hard to breach.
Hewett believes the crowd's passion will drive them on to even new heights in this area next weekend.
"The passion leads into their line speed [on defence] and their work at the breakdowns too."
He hopes it doesn't spill over into illegality but can laugh now about an incident in the match he played 11 years ago and which was only clinched by the All Blacks in the final seconds thanks to a try by loose forward Scott Robertson.
"In one breakdown I felt the family jewels being grabbed and I expected it to be a prop or a lock or at least a tight forward. I grabbed his hand and when I looked at his number as he ran away I saw it was a wing," Hewett said.
Robertson recalled recently that he happened to be in a position to take fullback Ben Blair's pass purely by accident.
"I took the lineout ball and as I was running along one of the Argentine guys tripped over me and I just stood up and stayed there," Robertson said.
"I ended up standing outside Ben Blair. They chased across, we held our width, and Benny gave me a great ball and the rest is history. It was great."
Hewett recalls being more relieved that elated.
"The All Blacks had never been beaten by Argentina, they drew 21-21 in 1985 [in Buenos Aires] but I didn't want to be involved in a loss to the Pumas in my first run-on test."
- APNZ