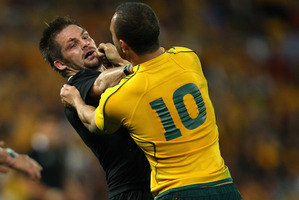 1 August 19, 2006
New Zealand 34 Australia 27, Auckland
A free-flowing game was bringing out the best in both sides at Eden Park until Wallaby wing Lote Tuqiri lifted McCaw in a tackle and speared him into the turf just after halftime. It was ugly and needless, with the skipper lucky not to have been seriously injured. "It was a tactic to take McCaw out of the game," said All Blacks coach Graham Henry. "But that's part of rugby and you live with that. If they've got a great player, you want to nullify him as well." Tuqiri was banned for 11 weeks.
2 June 12, 2010
New Zealand 66 Ireland 28, New Plymouth
The Irish pack had control of the ball a few metres out just a few minutes into the game. McCaw had appeared on the wrong side but was trying to get out the way. The ball was clear, the Irish halfback wanted to get his hands on it, but No 8 Jamie Heaslip dropped his knee into McCaw's head in full view of the referee. Heaslip, on his return to New Zealand this year, admitted he'd had a "brain fart".
3 July 17, 2010
New Zealand 31 South Africa 17, Wellington
The Boks had been drilled the previous week and were keen to make their presence felt in Wellington - which is what Danie Rossouw tried to do when he petulantly swiped at McCaw early in the game. The skipper was on the deck, having been spat out of a ruck, and Rossouw couldn't resist having a swipe.
4 October 30, 2010
Australia 26 New Zealand 24, Hong Kong
The All Blacks led 17-12 after 45 minutes when Quade Cooper charged into the side of a ruck and smashed McCaw out the back. The All Black skipper retaliated by kicking his studs into Cooper's knee. When the Wallabies scored the winning try on full-time, Cooper fired in and again hit a prostrate McCaw late and hard on the head.
5 November 6, 2010
England 13 New Zealand 26, London
A surprisingly expansive England team were looking for quick ball to keep themselves in a competitive test. With 15 minutes left, the All Blacks were leading 23-13 and England had an attacking lineout 20 metres out. A clean take and splinter drive saw an England forward isolated and McCaw, legally, fighting for the ball.
England hooker Dylan Hartley flew in low with his forearm raised and hit McCaw in the head. The outcome was a penalty to England for Jerome Kaino entering the original maul from the side and no citing for Hartley. "With that incident, I was surprised he wasn't up," McCaw said. "I don't know whether the ref saw it or not but I certainly made it known to him that I had been hit. I don't like people to take cheap shots - that annoys me."
6 August 27, 2011
Australia 25 New Zealand 20, Brisbane
It was apparent that Cooper was still harbouring resentment towards the skipper, with the first-five chasing McCaw around Suncorp. After 54 minutes of swinging his handbag, Cooper finally struck gold when he was getting up from a ruck and drove his knee straight into McCaw's face. It looked deliberate and nasty, and he was cited but found not guilty.
7 October 23, 2011
New Zealand 8 France 7, Auckland
The World Cup final was intense and brutal and McCaw didn't endear himself to the French for collecting Morgan Parra's head with his knee 10 minutes into the game. It was probably accidental but the French weren't sure. With three minutes left and having seen his forwards cough up the ball, centre Aurelien Rougerie sprinted 20 metres to a ruck, dived in and appeared to eye-gouge McCaw. Nothing was said at the time and the IRB played it down. A few weeks after the final, McCaw said: "The French are worse when they are scared. They were as bad as they have been and were going for the eyes."
8 September 15, 2012
New Zealand 21 South Africa 11, Dunedin
A brutal game was slipping away from the Springboks. The ball was trapped in a breakdown - South Africa may have been holding on - and McCaw was appealing to the referee for a penalty. Replacement prop Dean Greyling felt the All Black skipper was preventing the release so, from 10 metres out, he ran in and 'cleaned out' McCaw with a forearm to the jaw. He earned a two-week suspension after his yellow card.
McCaw has even been attacked by his All Black team-mates.
9 March 19, 2005
Blues 19 Crusaders 41, Auckland
The Blues were capitulating and the frustration was building. So much, in fact, that lock Ali Williams stomped on McCaw's head, earning a red card and six-week ban for his troubles.
10 April 1, 2006
Hurricanes 11 Crusaders 20, Wellington
The two best teams in New Zealand went for each other and would later meet in the final. This game had the intensity of a test as McCaw discovered when he was strangled at the bottom of a ruck for 24 seconds. He came close to passing out and described it as one of the worst experiences of his career.