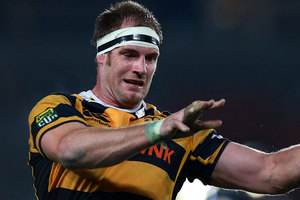 Northland 31
Taranaki 32
Two games in four days is a tall order for the modern-day rugby professional, and this year's ITM Cup may yet be decided by who can best navigate the demanding schedule.
After suffering their first loss from five games on Wednesday, Taranaki knew the importance of getting their season back on track tonight, and produced the goods in a gritty 32-31 win over Northland in Whangarei.
After an ordinary performance against Auckland, it was no surprise to see Taranaki make nine changes for the game - where a win was critical to keep pace with the Premiership leading Auckland side.
And without being superb, they did just enough to win , with a perfect kicking game from Frazier Climo and strong running from Kurt Baker instrumental in their success.
There were a few signs of fatigue from the Taranaki pack who struggled late in the game - slipping off tackles and struggling with a late Northland thrust.
But they are built of sterner stuff this year, and once again showed their winning mentality.
The game got off to a slow start with knock-ons and penalties disrupting any flow. After 18 minutes one of the games major talking points was that there hadn't been a collapsed scrum yet.
Ten minutes later the game livened up as Tane Takulua scored for Northland before Kurt Baker replied soon after for Taranaki.
Northland's game plan was to go from wide to wide, and their willingness to run the football created an open game, but too often their handling errors let them down and they squandered a number of good chances close to the line.
There has been a common theme in Northland's wins this year, and it's that Ash Moeke normally secures their wins with late kicks. But Moeke wasn't playing today and the kicking duties fell to Orene Ai'I who struggled with his kicking game and missed a regulation penalty early in the first half.
In contrast Frazier Climo was on fire, and when he landed his sixth kick from six attempts early in the second half it created a 12-point lead, and an important psychological edge.
Rene Ranger and Climo traded tries in an exciting five minute spell in the second half but it seemed that whatever Northland did, Taranaki could do better.
Dan Caprice and Derek Carpenter scored late for Northland but Climo's perfect game proved the difference as the visitors won by three.
Northland 31 (T Takulua, R Ranger, D Carpenter, D Caprice tries; O Ai'l 2 con, pen; M Wright 2 con;) Taranaki 32(K Baker, F Climo try; F Climo 2 con; 6 pen) Halftime 7-16
-nzherald.co.nz