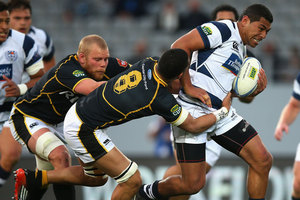 Auckland 43
Wellington 30
The crazy world of ITM Cup rugby continued at Eden Park tonight with a flighty clash that saw Auckland win their second on the bounce with a touch of everything.
It was yet another game that was next to impossible to fathom or analyse. This was rugby without structure, without poise, without the basics being thought through and applied.
Frantic, willing and full of incident, it made for great spectacle but will have done more damage to the reputation of the competition as a genuine development tool for the levels above.
All Blacks coach Steve Hansen said during the week there won't be any bolters coming out of the ITM Cup and onto the end-of-year tour. The gap from provincial rugby to test football is just too big: it would be madness to be sucked in by anyone looking good at this level - without Super Rugby experience to endorse the value - and believe they cold play a test match.
There was certainly little conviction about the defensive work of either team at Eden Park. It was uncomfortable to see how easily Alapa Leiua was able to round Dave Thomas at the end of the first half for a score that was all about porous defensive rather than creative attack.
That try was illustrative of not only what this game was all about but also what the ITM Cup is all about. A simple move from a scrum caused Auckland all sorts of problems which were compounded when a simple tackle was missed in the midfield. Through the hole, Leiua went on the arc, put the foot down and Thomas had little interest in hunting him down.
Auckland found life just as easy when they had the ball and they owe their victory to their better composure and more clinical edge.
Much of that was inspired by first-five Gareth Anscombe, who scored 28 points as well as directed traffic well. He's got a skill-set has Anscombe - even if it one not wanted by the Blues - and he's obviously got some character, too, because this week will have been tough for him.
He learned last Sunday he was being de-listed by the Blues - an enormous fall from grace for a young man who was being touted as the future of the franchise this time last year. He first of all had to pick himself up to play against Taranaki mid-week, which he did, and then had to back up again tonight. He was lively, committed and accurate, kicking four conversions and five penalties, on top of his try.
The win leaves Auckland in good shape to push on for the title. They have won five from seven and, apart from the aberration against the Bay of Plenty where they were strangely awful, look to be a side with enough nous, direction and willing to challenge both Canterbury and Taranaki _ the other two sides charging strongly.
Auckland close out their regular season with games against Championship sides Counties Manukau, North Harbour and Otago - arguably three games they will feel capable of winning.
The region could do with the boost following a miserable Super Rugby campaign for the Blues.
The Blues are also looking to fill a number of spots on their roster which should continue to provide extra incentive for a number of individuals.
Auckland 43 (Liaki Moli, Gareth Anscombe, Ben Lam tries; Anscombe 4 cons, 5 pens) Wellington 30 (Alapati Leiua 2, Jeff Toomaga-Allen, Charlie Ngatai, tries; Jason Woodward 2 cons, 2 pens). HT: 27-18.