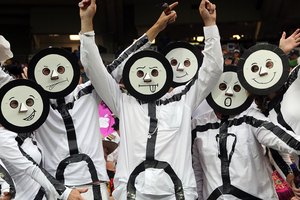 Wellington sevens' general manager Steve Walters says it's 'unlikely' the event will be forced to go alcohol-free in the future.
The ongoing debate about drinking at the annual February event was reignited this morning when veteran commentator Keith Quinn said on radio that the actions of punters at the Wellington event were getting worse.
Quinn, who calls sevens tournaments around the world, lobbied for a dry zone in the Westpac Stadium concourse in the late afternoon until the early evening during the annual tournament. People could buy alcohol on the concourse, but would have to take it back to your seat to drink it.
Walters poured cold water on the suggestion of a dry concourse as it would be tough to manage and said he couldn't see a time where booze wouldn't be available at the event.
"I would find that unlikely to happen in the short term,'' he said.
"We've run this tournament for 13 years and it's been hugely successful.
It's that small few that do spoil it for others. We had 14 arrests out of just under 70,000 people for 2012 so it's a very small amount of people. But obviously those are the people that make it worse. So our role is to make sure that we let people know in advance about expectations of that behaviour and coming up with an attitude to enjoying themselves and not spoil it for others.''
Sevens has been included on the Olympic programme for 2016 in Rio de Janeiro where men and women will compete.
The event in Wellington, which is part of the nine-leg world series that gets underway again next month, offers a 'Family Zone' at Westpac Stadium and will also host a 'Rugby Zone' for the first time next year where fans who want to watch the action on field rather than socialise can sit.
Parents can still drink in the family zone and Walters said they tried to make it alcohol-free one year but they received negative feedback from adults who wanted to be able to enjoy a wine or beer responsibly.
Wellington city councillor John Morrison, a regular at the sevens, said he was concerned the actions of a few people were going to ruin a great event for thousands of others.
"It just seems that whenever in this country there's a problem that everyone has to suffer,'' Morrison said.
"I like going to the sevens and I like having a drink. I don't really want to be told that I can't have one.
"The behaviour overall, I think, is reflective that considering there's 70,000 people going to the sevens there are very few arrests and there's not much more trouble in the city than there is on a normal weekend. So that will tell you that it's actually a party, and having fun is not illegal yet. I know some parts of society and political parties are trying to make it illegal, but for the moment it's not, and I'm very happy to support that.''
Wellington police inspector Simon Perry, who is in charge of operations for the event, said they had no major problems with the behaviour of this year's sevens-goers in February.
"There's been strong messages from the stadium in relation to `if you're going out past six o'clock you can't come back in'. We believe that's had an effect. Certainly last year we saw a noticeable difference.''
Perry said limiting the quantity of booze people could buy as the days wore on also helped scale back intoxication, and people were searched before they entered Westpac Stadium so they weren't able to smuggle alcohol in.
- APNZ