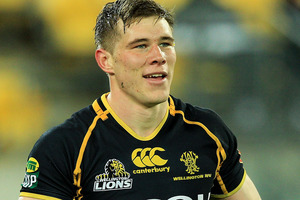 Wellington fullback Jason Woodward has signed a two-year deal with the Melbourne Rebels after failing to attract an offer from the Hurricanes.
The Upper Hutt 22-year-old, who grew up supporting the Hurricanes, admits it was disappointing he couldn't remain in New Zealand but said having the opportunity to play Super Rugby was too good to pass up.
"The Hurricanes basically weren't interested. There was interest from a couple of the other New Zealand franchises but at the end of the day they weren't prepared to put an offer on the table and the Rebels did," Woodward said.
"So I took my chances while they're on the table ... Super Rugby was definitely the goal for me this year.
"I was hoping to get offered something in New Zealand but it didn't happen and it's happened this way and I'm stoked that it's come up and I'm really looking forward to it."
Woodward, who is studying to be a commercial helicopter pilot, said it was tough to not be able to find a spot on the Hurricanes roster.
"Growing up it is the team I've always loved and there's always going to be a little bit of disappointment there but that's just the way it goes, really. It's a professional sport and you've got to take your opportunities while they're there and that's definitely what I'm doing."
Woodward had also received offers earlier in the year from English and Italian clubs where he would play as a local due to his English grandparents but he wanted to play Super Rugby.
He made his ITM Cup debut for Wellington last year when he scored a hat-trick against Taranaki but his form dipped in the latter stages of the competition.
This season he has been more consistent for the Lions as he has made the No 15 jersey his own but he can also play on the wing and has spent time at first-five at club level.
Woodward crossed the chalk yesterday (Sat) when he scored Wellington's fourth try of the day as the Lions beat Waikato 29-13 at Westpac Stadium and he also added three conversions and a penalty.
The Rebels have struggled in their first two years of being involved in Super Rugby but do boast Wallabies' backs Kurtley Beale and James O'Connor in their ranks.
"There's a few big names," Woodward said. "It'll be pretty weird wandering in to the training base when I first get there looking round and seeing those guys there. But it's going to be awesome playing with them and it's going to be a massive learning curve and I'm really looking forward to playing with them."
- APNZ