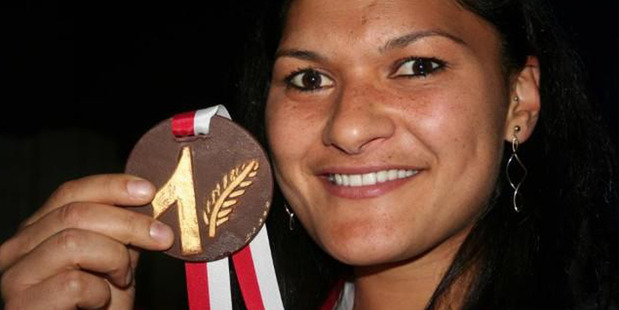 A chocolate gold medal has been presented to shot-put champ Valerie Adams during an exclusive ceremony in the land of chocolate: Switzerland.
The 27-year-old, who will receive her rightly earned gold medal at a ceremony in Auckland next week, has revealed the touching gesture of her coach, Jean-Pierre Egger.
Adams said Egger had organised a special ceremony at his home where the chocolate stand-in medal was presented.
"We had an Olympic dinner he organised with 40 people and he did a medal ceremony with the Chariots of Fire music playing and his whole family - about 15 of them - sang the national anthem in English and Maori. I was very impressed.
"They presented me with a medal made of chocolate, personalised with a silver fern on it and a No 1.
"I had my cry on the podium - it was awesome," she said.
Asked if she had eaten her medal, she said she was bringing it home to New Zealand with her next week.
"I don't want to eat it until I get it replaced with the gold one," she said.
Adams will touch down in Auckland on Wednesday, just hours before the ceremony at The Cloud where she'll finally get her Olympic gold.
Her family and friends, as well as Olympic teammates, will be at the event, which will come just two weeks before her 28th birthday on October 6.
Up to 2500 members of the public will be given the opportunity to see the medal ceremony, with free tickets being distributed via radio stations and the ANZ Bank.
The ceremony will also be streamed live on both TVNZ and TV3 and on the internet.