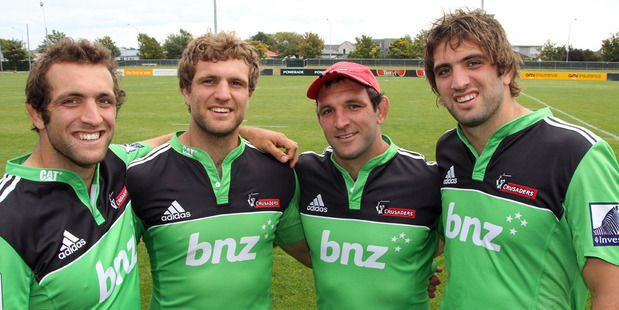 Sam Whitelock's parents will not be in Dunedin to watch their son play his 32nd test for the All Blacks tomorrow.
Caroline and Braeden Whitelock have opted to watch their other three sons - Adam, George and Luke - play for Canterbury in the Ranfurly Shield challenge against Taranaki in New Plymouth.
"Three against one meant that they will watch the shield game and hopefully celebrate with the team afterwards," Whitelock said.
"My brothers are excited about the challenge and can't wait to get out there to take the shield off Taranaki."
Whitelock's parents have been to most of their son's home tests.
"It was special at last year's World Cup when family and friends could come along."
Whitelock played for the Crusaders this year and the test against the Springboks will be his second game at Forsyth Barr Stadium.
"It's a pretty cool stadium. The noise and the atmosphere is world-class. It wasn't really an echo. It was just a big, loud noise."
The Crusaders lock was one of only four All Blacks to play in all 12 tests last year.
He came off the bench against Argentina last week and is starting in his 32nd test tomorrow night.
"It's great to start for the All Blacks," he said. "Everyone in the squad wants to play every minute of every game.
"To get back into the starting XV is special for anyone whether it's your first or your 100th game."
He relishes the chance to play against the Springboks again.
"South Africa has huge forwards who are physical and aggressive," Whitelock said. "Some of their outside backs are electric and their inside backs can kick the ball a long way."
It was a wake-up call for Whitelock when he sat on the bench against Argentina.
"It's never nice to be told that you've been dropped. I'm looking forward and trying to improve my game in all areas so that I can impose myself throughout the whole game and not just in parts."
Whitelock has not yet committed himself to staying in New Zealand until the 2015 World Cup but is in negotiations.
"Playing for the All Blacks is what I want to do and that's it in a nutshell," he said.
"I've been in Christchurch for the last five years and really enjoy it."
The Whitelocks: A rugby family
George (26) - Crusaders, Canterbury, one test for All Blacks
Adam (25) - Crusaders, Canterbury
Sam (23) - Crusaders, Canterbury, 31 tests for All Blacks
Luke (21) - Crusaders, Canterbury, All Black training squad