'Older' Carter now regarded as a red-flag injury risk by All Black coaching staff.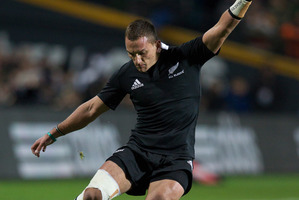 Aaron Cruden will have to deal with the ferocity of the Springboks and his own gremlins this week but will be saved from any weather bombs in Dunedin.
The Chiefs five-eighths will direct the All Black backline again because Daniel Carter is still recovering from his calf muscle strain.
Coach Steve Hansen explained the decision had been made early to give Cruden and Carter certainty in the build-up to Saturday.
Carter would recover for the next away leg of the Rugby Championship in Argentina and South Africa but he needed managing after his recent run of injuries.
"He's getting older, isn't he? The more you play the game the more vulnerable you are to injury and he's got quite a few miles on the clock," said Hansen. "He's what we call a red-flag athlete. He's at high risk of getting an injury and we have to be smart about the wear and tear on his body and how much [strain] we put him under."
In recent years Carter has suffered Achilles tendon, hip flexor, adductor muscle, hamstring and calf injuries.
So Cruden will begin his 14th test under the protection of the roof at the Dunedin Stadium after much of his work and that of the All Blacks was upset in the fierce Wellington wind and rain on Saturday at the Cake Tin.
Whether he partners Aaron Smith again at halfback, or Piri Weepu, will unfold later in the week but Hansen knew the tough weekend experience would benefit both young players.
"This game will have done wonders for them because you don't want them to play in test matches that are always easy. You want them to be challenged and tonight they were, not so much in a physical sense but from a game understanding sense."
Cruden acknowledged he was a shade match rusty in the 21-5 test victory against Argentina but he had played many times in awkward conditions at the Cake Tin.
"I think I could have been smarter in setting up opportunities to kick and apply pressure that way and try and turn them around a bit more but at the time we did what we thought would work," he said.
Cruden goaled four from seven shots in the wind and rain.
When Liam Messam replaced blindside flanker Victor Vito soon after halftime, Hansen lauded the new man's contribution as "pretty commanding".
The pack had also stood up against a powerful eight and they had to repeat that against the Boks, said Hansen.