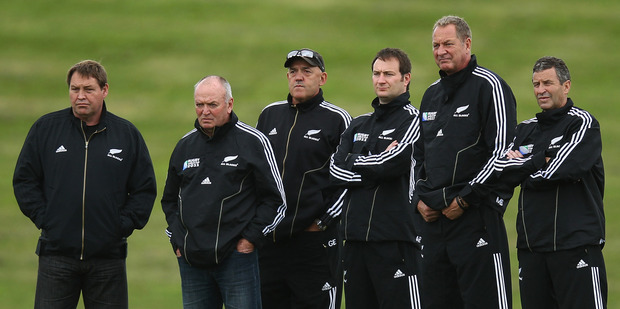 Much has been made of Graham Henry's presence with the Pumas but, strangely, he had a bigger influence last week with a New Zealand side.
The Highlanders became the latest team to buy into the expanded coaching team model - a radical idea introduced by Henry that may end up being the most significant part of his legacy.
Just as today's players have Jonah Lomu to thank for their income, coaches might come to realise they are living in a period of unprecedented opportunity and riches as a result of Henry's revolution.
Coaching has finally gained the recognition it craved and teams are pumping in money to ensure they have the right people as part of the right teams. The idea of there being a head coach and an assistant is dead. Now franchises are prepared to sacrifice some of their playing budget to make sure they have specialist and expert coaching.
The origins of this approach go back to 2003. When Henry was appointed All Black head coach in December that year, he had a big idea that few realised.
He was going to break the notion that coaching was about one man; instead he wanted to build a coaching team, work with experienced, senior coaches who would have unprecedented tactical, selection, technical and psychological input.
He persuaded Steve Hansen - head coach of Wales at the time - and Wayne Smith - head coach of Northampton - to give up those roles and join his management team which would include a number of specialists such as scrummaging, skills and conditioning.
Beyond any reasonable debate, the switch to a bigger team brought better performance and results for the All Blacks. It wasn't just the size that was different: Henry picked men with experience and diverse skills and established that three heads are better than one.
That thinking now prevails in Super Rugby in New Zealand. Rookie head coach Dave Rennie has deservedly boosted his profile this year by winning the title in his first season with the Chiefs.
While he's been impressive; relaxed, astute, innovative and skilled in how he's managed his players, he's benefited by having an expanded coaching team.
The Chiefs decided at the end of last year to invest more heavily in their coaching and hired Smith as technical director as well as Rennie, with Tom Coventry and Andrew Strawbridge as assistants.
In stark contrast, the Blues persevered with the traditional head -assistant structure and part-time specialists and regretted it.
Even before Pat Lam's job was advertised, the Blues' board had decided to invest more heavily in their 2013 coaching team. When they hired John Kirwan it wasn't on his merits alone - it was the overall package. Kirwan had a team in mind and its strength was enough to win him the job.
The Highlanders continued this trend last week when they announced former All Blacks Scott McLeod, Jon Preston and Graeme Purvis would work with Jamie Joseph next year.
The penny has dropped that good coaching is a critical part of high performance and teams are willing to spend heavily to get the right mix. The New Zealand Rugby Union pays the salaries of Super Rugby head coaches and one assistant, leaving the remuneration of the expanded teams to the individual franchises.
The Chiefs had to stretch themselves financially - cut back on player expenditure - to secure Smith and the Blues, too, have made a massive commitment to lure Henry.
NZRU high performance director Don Tricker, says: "It's probably always been the case [that coaching is about the team] but it's maybe become more obvious. The critical component is to get the best out of the athletes and the role of the head coach is getting greater clarity.
"That role is about coaching people: coaching players and the wider support staff and coaching group. There is certainly a more strategic approach to ensure teams are thinking about the type of coaching they need and the roles to be filled to get the outcomes they want."