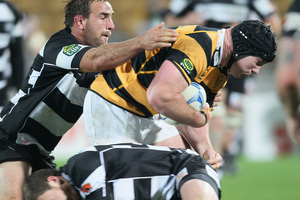 Sixty five minutes of scene-setting, to put it kindly, followed by 15 minutes of something approaching what the rose tinted memory says Ranfurly Shield rugby used to be about.
That was the story in New Plymouth last night. Taranaki retained the dear old shield with a powerful finish against Hawkes Bay. After Hawkes Bay nudged ahead following a scoreless first spell, Craig Clarke's men cantered to a 22-6 ITM Cup victory in front of an 8100 crowd at Yarrow Stadium.
Hawkes Bay's first half advantages didn't carry an authority that suggested the shield was about to catch a flight. Their best attack of the night came in the 65th minute and, ironically, it seemed to inspire Taranaki who raised their own pulse initially by flinging themselves into tackles.
Even the goalkicking improved. Jack Cameron, a lively 60th minute replacement for James Marshall in the Taranaki backline, nailed three from three as the rain pelted down.
Jayden Hayward and Scott Waldrom scored the late tries which finished Hawkes Bay off, and another to Cameron was ruled out because a communication hiccup meant referee Keith Brown had missed an offside call.
Taranaki, who won a free for all against Tasman in the previous round, will go into Saturday's challenge from Canterbury with a confidence boosting three-from-three record.
Captain Craig Clarke said: "This was a traditional shield game compared to last week. Our lineout drives took it out of their defence...it was pleasing to keep the shield but we were chasing four tries."
The impressive Waldrom added: "We're going to have to work even harder to hold the shield next week."
Beaten captain Mike Coman may have overstated things a little when he claimed Hawkes Bay had blown first half chances. They had position, yes, but real chances, not really.
"At crucial times we made crucial errors," he said.
They nearly made another. Despite having no chance of a bonus point, the Magpies tried to keep the ball alive near their goal line in the final seconds, giving their premiership rivals a sniff of a four try bonus. The right option was kicking the ball out, one of those strange and sad consequences of having a bonus point system at all. Old shield aficionados would cringe at the thought.
Taranaki 22 (K Baker, J Hayward, S Waldrom tries; J Cameron 2 con, pen), Hawkes Bay 6 (D. Waenga 2 pen). Halftime: 0 - 0.