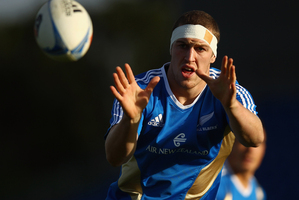 Straight between the eyes. That's how the All Blacks want it, the public too, and certainly those who cover rugby for a living. No camouflage, no dancing carefully around the topic of team selections.
How refreshing it was yesterday when All Black coach Steve Hansen detailed some of the reasons behind the choice of his team to play the Pumas in Wellington tomorrow.
Why was Sam Whitelock left out of the side in favour of Brodie Retallick?
"Brodie's playing better than Sam at the moment," said Hansen.
It was a simple assessment from the coach, made without any fuss or rancour, but the sort of response which has not been so forthcoming from the All Black group in previous years.
Hansen did not have to go into more detail; those issues were going to stay within the team confines but Whitelock's play had tailed off because he had endured a large workload.
The next two tests against Argentina and South Africa would be huge exams for the All Black tight five and the rookie test locks - Retallick and Luke Romano would get the first crack against the Pumas.
The visitors would maul and scrum strongly and were also one of the better defensive units in the world.
Liam Messam needed a spell because he had also been through a long itinerary and Victor Vito would bring some of the sting the All Backs needed to maintain on the blindside.
The selectors had also looked at "the big picture" with Hosea Gear on the left wing. He had been tidy and his lack of tries was not his fault.
But the future was a man like Julian Savea; this test was his time.
The novice felt more relaxed, at least he said he was, but he still had three days to get through before his test return on his home patch.
Hansen was in playful mood when asked what Savea brought to the team. Good looks and dance moves were two qualities he nominated before slipping in that Savea was a "pretty special rugby player".
This was his chance to unveil his parcel of youth, pace and power and deliver it in the test arena.
Publicly, Hansen welcomed the duel with former coach Graham Henry ensconced in the Pumas' camp but that answer might have had a smokescreen element to it.
In private, the All Blacks are not so amused and there is enough ill feeling to suggest they want amends for this coaching swap.
"Graham will have done lots of analysis on us and want them to attack us and that will be great for us in different areas," Hansen said.
He was still close to the All Black methods and familiar with their players but that was the exciting challenge for the hosts. They had moved their game on. "To have him help prepare their side will show our weaknesses," Hansen said.
The Pumas looked as though they had an outstanding set of backs but they did not use them as much as the All Blacks. "But maybe Graham Henry will give that a whirl this test," said Hansen.
That suggestion was made with an impish grin, a taunt just as implicit in Hansen's observation.
Now we have to wait and see who's bluffing, who's playing what game.