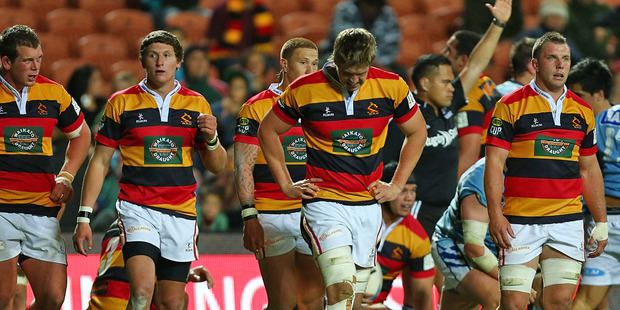 Patrick McKendry of APNZ lists five reasons why the frenetic nature of the ITM Cup may be doing more harm than good.
1. No defence
It's what counts at the highest level but teams in the ITM Cup simply cannot devote enough time to this crucial and most basic of disciplines. How did the Chiefs win the Super Rugby title? A big factor was their unyielding defence based on the work ethic of their players and the systems thought up and coached by Wayne Smith, in particular. Three games in nine days for the top provincial teams in the country is now normal and matches are played every day except Monday - sadly, this is one of its selling points. The result? Teams routinely scoring eight or nine tries against each other. The compressed nature of the competition, which used to be the jewel in the New Zealand rugby crown, was brought in last season due to the World Cup. It has now become the norm and as a result the game at this level is losing shape and meaning.
2. Lack of pressure
Good players are forged in the furnace of constant pressure, but thanks to the above and a lack of focus on other core skills, they are being compromised. It makes it harder to gauge a player's ability and also makes the jump to Super Rugby that much tougher. Super Rugby coaches are reluctant to push ITM Cup players straight into the next level without first carrying them in wider training squads for at least a season. Most don't have the skill and composure to cope with top professional rugby straight away as they haven't had the required grounding from their provinces.
3. Bad habits
There is a rhythm to a professional player's week - game, rest, review, recovery, preview, train, game - which is lost at this level, but they're not the only ones being thrown out of whack. It's easy for coaches and supporters to pick up bad habits too. Coaches are forced to take shortcuts, and supporters - tuning in and out of what is becoming background noise - get used to catching matches on television rather than making the effort to attend them. A crowd of 7600 went to the Auckland v Manawatu match at Eden Park on Sunday. Even more depressingly, there are suggestions that provinces are prioritising matches rather than putting all of their resources and effort into every one.
4. No sense of occasion
The seemingly endless loop of matches within the space of two months has seen the previously high-profile competition quickly fall from the limelight. In other words, the sense occasion and anticipation - all that is good about sport - is missing. Previously a Canterbury v Auckland match would have grabbed the headlines for days but on a mid-winter's Wednesday night in Christchurch it came and went with barely a mention. It's a hard one for traditionalists, who don't necessarily like the Super Rugby concept, to take.
5. Loss of relevance for Ranfurly Shield
The oldest and most famous trophy in New Zealand rugby has been on the ropes for a few years now but is nearing the canvas thanks to this new format. Does anyone care about it anymore? Taranaki are the current holders, by the way. Last year Southland and Canterbury held it. A victory by a minor provincial union would give it a lift but the chances are the reign will be over within the week.
- APNZ