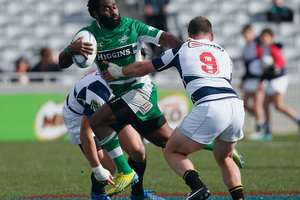 Auckland 59
Manawatu 16
An eight-try win for Auckland over a hapless Manawatu and coach Wayne Pivac has suggested we can expect the ITM Cup points-scoring avalanche to continue.
Auckland got their season back on track with their first match at Eden Park for 2012 featuring four tries in each half - fullback Charles Piutau collecting a hat-trick - and nine out of nine kicks at goal.
Following a comprehensive midweek defeat at the hands of Canterbury in Christchurch, and letting it slip in the second half of their win over Hawkes Bay in round one, Auckland quickly found their mojo in front of a crowd of 7600 thanks to a leaky Turbos defence.
Not surprisingly, tackling or lack of it, was the main topic of conversation afterwards, with Auckland coach Pivac saying the extremely short turnarounds during matches means no teams can devote enough time to it. Three matches in eight or nine days are now the norm.
The big score follows last night's successful 49-40 Ranfurly Shield defence by Taranaki over Tasman, and Hawkes Bay's 37-30 victory over Counties Manukau on Friday night.
"It comes back to prioritising what you can do in training" said Pivac. "There aren't as many trainings in this competition so you have a lot of work-ons, on attack and defence, and it's a matter of prioritising them and some coaches I would imagine are looking a lot more at what they're doing with the ball.
"Certainly defence is a big part of the game, but it's really difficult to get a good defence session, contact session, in this competition so you probably get one or two in during the whole window whereas in the old days you probably had one every week."
In the first half, wing George Moala, fullback Charles Piutau and second-five Hadleigh Parkes were all beneficiaries of ordinary defence from the championship team. Things didn't improve drastically after the break either, with Gareth Anscombe breaking through, Piutau scoring another two, and Moala securing his brace.
After a difficult Super Rugby season with the Blues and slow start to the ITM Cup, first-five Anscombe played well, kicking seven from seven and found plenty of space with his clearances.
For Manawatu, who breached the Auckland line only once - Tomasi Cama jinking expertly upfield and releasing flanker Callum Gibbons for an excellent converted try - it's two losses on the trot.
"You can't afford to give away massive linebreaks like that and hope to compete a team with some pretty good athletes out wide," Manawatu coach Jason O'Halloran said. "It was just really disappointing, a lot of one-on-one misses and a lack of communication in the defensive line."
It was better news for 20-year-old Piutau, who said of the targeting of the Turbos' midfield: "As we started, we went wide a couple of times and found we were getting good gain-line so we just kept using that."
Auckland are likely to face a bigger challenge next Saturday when they take on Waikato at Eden Park. Manawatu face Northland in Whangarei on Wednesday.
Auckland 59 (Charles Piutau 3, George Moala 2, Hadleigh Parkes, Nepia Fox-Matamua, Gareth Anscombe tries; Anscombe 6 cons, pen, Simon Hickey 2 cons).
Manawatu 16 (Callum Gibbons try; Craig Clare con, 3 pens).
HT: 31-13
- APNZ