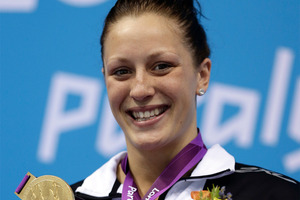 Sophie Pascoe is nearly there - three medals in three days and she's not done yet.
The 19-year old blitzed the field in her 100m butterfly heat this morning with a world record time of 1:04.97 and returned this morning (NZT) to be more dominant that ever, claiming gold in 1:04.43 and breaking her own world record.
Pascoe now needs just one more gold medal to equal the three golds and a silver she secured in Beijing four years ago, and has three more events up her sleeve.
If there can be such a thing as a blip in a world record and gold medal winning performance it would have been the final touch, where it seemed an age before Pascoe stopped the clock. "I guess I just didn't time it right and I guess it's those little things, but obviously I got it just in time and got in there," said Pascoe. "Tonight was about racing the clock, and that's what it is all the time when it comes down to racing, it's about racing the time, you want to go out there and do a PB [personal best] that's the goal, it's not about the gold, it's not about the silver or bronze it's about going out there and doing a PB and if it gets you on that podium, that's what you want."
Pascoe will have two days to freshen up before the second half of her competition, starting with the 100m backstroke on Tuesday. This is another strong event for the leg amputee, giving her shoulders a chance to bring home another gold. "I would like to do a PB in that and see what I can show the crowd, it's all about what we do on the day."
Wellington's Mary Fisher continues to surprise in the pool, following a silver in the 100m freestyle the 19-year old added bronze to her collection in the 50m freestyle.
Cecilia Camellini won Fisher's race in 30:94 and was the first woman to go under the 31-second mark, making Fisher's 31:67 personal best a triumph in her first Paralympic Games."We've been working on improving my stroke and times and it's definitely paid off getting a PB and being right up there with world record holders and everyone that's breaking world records," said Fisher.
This morning's other finalist Cameron Leslie also swam a personal best. Competing in an event he describes as a warm up to his main event (the 150m individual medley where he is the defending champion and world record holder) he went a further two seconds better than his heat, finishing the 200m freestyle in 2:54.27.
CYCLING
Fiona Southorn said she's getting better with age, and today at the velodrome she proved that again, setting a personal best in the women's C5 500m time trial.
"I never expected to be in the money but I just really, really wanted to crack that 42 [second mark]." Southorn was the 9th rider to go out of 14, and her 41.76 finish slid her into the silver medal spot, before the following rider knocked her down a peg and then eventually off the dais to finish 7th overall.
The personal best will give her team some extra hope for the team sprint tomorrow, where the 42-year old will become the first Kiwi woman to ride in the team sprint. "I'm sure the boys will be very interested in hearing my time today, because I'm doing the first lap tomorrow," said Southorn.
Australia is the only other country to feature a woman in their team.
Southorn will team up with Nathan Smith and Chris Ross in the event, but their current ranking, which is outside the top 10, doesn't have them pegged for a medal.
- APNZ