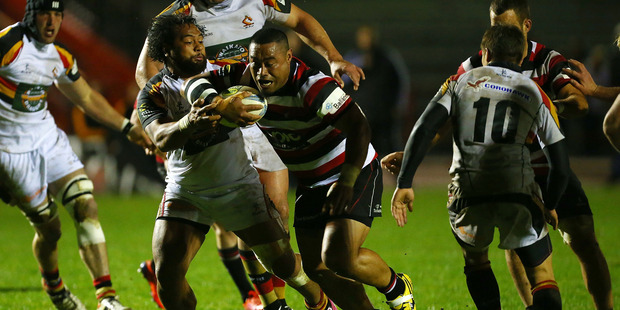 First impressions suggest at least one of the new rules being trialled in the ITM Cup is having a welcome impact in helping teams score tries.
The first full round of games yielded 41 tries across the seven games, compared with 34 in the first round of 2011.
The differences between this year and last are not stark but they are being noticed by the players, who say the introduction of the five-second window to clear the ball from the back of a ruck is adding some urgency to proceedings.
Of the eight new laws proposed by the IRB, the five-second rule was always destined to be the one with the biggest impact.
The World Cup highlighted the need for change, as while the rugby was mostly memorable, expansive and engaging, the knockout rounds were marred by long periods of inactivity as halfbacks stood over the ball for long periods.
The All Blacks, to the nation's relief, were able to close out the last four minutes of the final by driving into contact and then leaving the ball at the base for 20 seconds at a time.
The frustration for the French would have been intolerable and the IRB has moved to ensure teams can no longer kill the game by doing nothing. Auckland coach Wayne Pivac says the biggest challenge is making sure players are aware.
"We are very conscious of the five-second rule," he says. "It means that teams have to be aware whether the halfback is there. Tactically, they have to identify who is going to be halfback, particularly out wide. But it's a bit too early to tell whether the change has resulted in more running or the ball being in play for significantly longer.
"We are monitoring how far the guys are running in a game and there hasn't been much change in that."
The other major change proposed is a shortening of the scrum engagement commands. The crouch, touch, pause, engage sequence has been amended to crouch, touch, set. The rationale was to reduce the time both packs are left balancing ahead of the hit and therefore increase the likelihood of making a clean engagement.
Despite prolonged efforts to tidy up scrums, the IRB is still not happy at the number of resets across most competitions. And it is already questionable whether the new sequence will achieve its goal.
"The message we have taken so far is that the referees are definitely in control of that sequence," says Pivac.
"They want to control the engagement and that is probably why we are seeing quite a high number of free kicks at the moment with teams going early. That is pretty much what happened under the old system but it is too early to make longer term judgements."