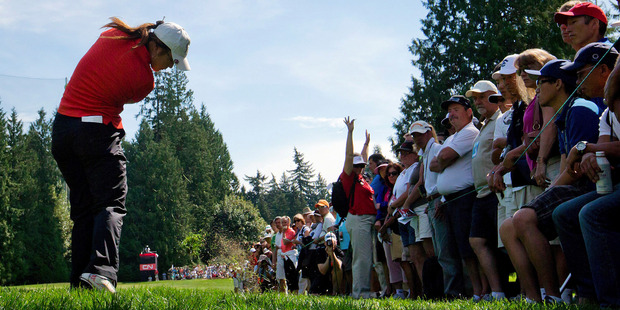 To understand why Lydia Ko - golf's latest sensation - isn't turning professional at the tender age of 15, it is perhaps best to review the career of one Michelle Wie.
The parallels are obvious. Ko burst into global calculations after her win at the Canadian Women's Open last week, topping a field that included 48 of the world's top 50 players. Ko could have won US$300,000 ($374,000) if she'd been a professional but earned congratulations from the likes of Gary Player, Rickie Fowler and ... fellow Korean Wie.
The latter was a pre-teen and teen golfing comet. At 10, she was the youngest player to qualify for a USGA amateur championship. She became the youngest winner of the US Women's Amateur Public Links and the youngest to qualify for a LPGA Tour event. Wie turned professional just before her 16th birthday in 2005 in a blaze of publicity and expectation that saw her heralded as the new face of women's golf. She even turned up in men's tournaments, though she missed the cut 12 of the 13 times she played with the men.
At her first professional tournament, she was disqualified for an incorrect scorecard and then missed the cut at her second event. Now, six years later, Wie has won only two LPGA tournaments. Her form fell away sharply and she decided to go to university, graduating from Stanford in March and then heading back to full-time professional golf. By June, she had missed six cuts in a row - and most judges say her problems are mental.
Wie hits the ball huge distances with a beautiful swing but the mental toughness angle was underlined by women's golfing great Annika Sorenstam, who said in an interview in 2010 that Wie "has one of the best swings in the game of golf" before pointing out that winning required more than just a pretty motion.
"I stand by [earlier comments questioning Wie's psychological make-up]. I still feel so. You would think that being on the scene for many years now that she would have [succeeded] a lot more," Sorenstam said. "It just goes to show that it's a lot more than a golf swing that matters and the mental aspect is a really important part of the game."
Sorenstam also questioned Wie's decision to go back to college, saying it did not mix with professional golf. That underlines that Ko and her handlers may have it right when it comes to holding off a professional career in favour of going to university (Ko also wants to go to Stanford). Both the US and European tours have an age bar of 18 but special dispensation can be granted, as it was for Wie when she was 16.
Golf is full of stories of young players who have burned bright and then burned out. Those case studies have shown that progressing cautiously in a pro career is not just a matter of being wise and taking things gently, it's also about garnering the right mental strength.
One of Wie's coaches, Pia Nilsson, told Golf Digest that Wie's problems were fairly typical for a player successful at a young age: "This can easily happen when you are a really good player as a child. Then you enter a period when you turn into a grown-up and start to think of things more. It's usually just a phase, and one that many players have to go through, but few have to go through it all with as many eyes on them as Michelle."
"The transition from amateur to professional can be a big step," says New Zealand Golf high performance manager Gary Thorpe. "It is very difficult to go from an elite amateur to an elite professional," says Thorpe. "No matter what you may have achieved as an amateur, everybody is a rookie professional when they first start out on the tour. You have to adapt to the game around the game and get through the learning phase."
"There is a huge mental shift that goes on when you are playing for your livelihood compared to playing for a television or a toaster," says New Zealand Golf chief executive Phil Aickin, "It can't be underestimated."
Despite her stated goal to attend a US college, the national body believe Ko will be playing for money on or before her 18th birthday.
"From what she has indicated and what we know of her vision for her career, we expect her to turn professional between the ages of 16 and 18," says Thorpe, "though those plans are set in sand not stone and she has her own personal goals."
Perhaps Ko will follow the path of Tiger Woods, who attended Stanford College but only for one year. She has taken on each new challenge with aplomb and (so far) dealt with the increasing weight of expectation upon each new achievement. She has benefited from the holistic approach of coach Guy Wilson. Ko has a mental skills coach (David Niethe), a physiotherapist (Johnny Gladwell) and a strength and conditioning trainer (Jay Harrison).
"All the elements need to be in place to succeed. There's no point perfecting your strokes if mentally you are not ready to perform," says Thorpe.
Golf New Zealand is also confident that Ko, who emigrated to New Zealand when she was five years old, will continue to represent her adopted country. Over the past two decades, there have been plenty of Korean females who honed their game here before switching back to their country of birth (Cecilia Cho is the most recent example).
"Lydia has said she wants to represent New Zealand and we are confident it will stay that way," says Aickin.
Ko will contest the British Women's Open Golf championship at Royal Liverpool on September 13.