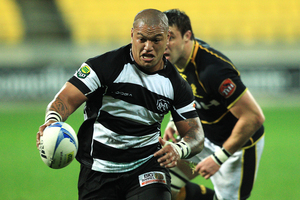 Hawkes Bay 37
Counties-Manukau 30
Hawkes Bay took the spoils, but it could so easily have gone the other way in Napier tonight.
The ITM Cup premiership side beat championship dwellers Counties-Manukau by 37- 30, relying on an edge in the grunt department to finish off the free flowing Steelers.
Finding the individual match highlight was easy: after getting the ball from retreating halfback August Pulu, Steelers flyer Sherwin Stowers took off like a mad rabbit on a 30 metre run to the tryline early in the second half.
The award could have gone to replacement Ihaia West but for a dodgy touch judge call that ruled out a try that would have given Hawkes Bay a 69th minute lead. But the Magpies quickly won justice through the matchwinner to Daniel Waenga.
Having trailed by as much as 20-6, Hawkes Bay drew level at 30-all in the 60th minute after a Hika Elliot inspired forward rumble which created a major overlap, allowing Tua Saseve to stroll over.
Counties-Manukau got on an early roll and the points flowed but they only led by 23-22 at halftime, after Elliot was driven over for the home side's first try.
The Steelers were a man down at that point, prop Simon Lemalu having been yellow carded after referee Richard Kelly had given both teams a general warning after the run of penalties.
Counties-Manukau had flowed as much as possible in an error riddled, penalty infested opening and came up with two excellent tries to the dangerous Tim Nanai Williams and Pulu.
This was the good, the bad and the ugly of rugby - power running, technical infringements, hopeful kicks, mistakes, and confused spectators.
In a rare moment when it all came together, Nanai Williams scored after dazzling lead up work towards the right, with the Steelers quickly finding an overlap on the left.
Hawkes Bay 37 (H Elliot, T Saseve, D Waenga tries; Waenga 2 con, 6 pen) Counties Manukau 30 (T Nanai Williams, A Pulu, S Stowers tries; B Kerr 3 con, 3 pen). HT: 22-23.
- APNZ