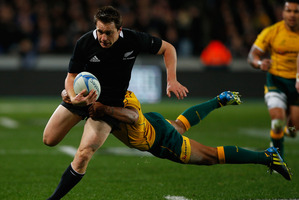 It's farewell to Sonny Bill, but the All Black machine has no time for sentiment and already thoughts will be swirling about the make-up of their midfield to take on Argentina.
It was a vexing issue before they were able to persuade Williams to delay his departure for Japan and the picture looks just as complicated now, with Ben Smith having emerged strongly in the unfamiliar position of centre for the final half hour to stake a good claim to stay there in Wellington.
Everything hinges on whether Conrad Smith is declared fit - the world's best No 13 had eye surgery after Super Rugby and is not sure when he'll be given the all-clear.
He's touch and go for the Pumas and there may now be a desire to not rush him back so the selectors can get another look at his namesake at centre.
Smith was lively, got into the game as soon as he came on and showed up well.
Certainly assistant coach Ian Foster believes Smith has considerable potential to play centre at this level and Argentina could be the ideal opponent to further test that theory.
The Pumas, while they will be competitive up front and give all they have got, present a wider opportunity for the All Blacks to find that missing 10 per cent that blighted their work at Eden Park.
They were commanding, totally in control and the Wallabies lavished them with praise, but the All Blacks themselves were a touch dirty they didn't finish all they created.
"We made some bad decisions," said All Black coach Steve Hansen.
"There were times when we could have had one more pass, or hit one more ruck - that would have been nice.
"We were a lot more patient in the second half but we weren't quite able to use the luck to pull things off."
Hansen's opposite, Robbie Deans, had a more enthusiastic appraisal of the All Blacks. Partly because he believed it and partly because the pressure he's under, it's not a bad move to talk up the All Blacks to try to put a more positive perspective on things.
"They are relentless, fit, well conditioned and it doesn't matter what channel you go down, they are at you," said Deans. "They give every side a blueprint.
"They gave a masterclass in rugby today and they are a side playing with such confidence that they are getting offloads away among the big forwards and confidence grows.
"I thought it pretty remarkable that we only leaked one try," he said.