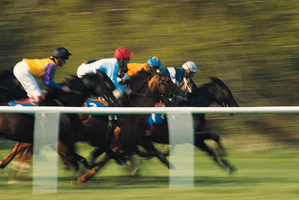 Cambridge 3-year-old Dundeel could be set to follow in the hoof prints of Derby-winning former stablemate Lion Tamer this spring.
The Murray Baker-trained colt produced a monster run to come from last to win his Australian debut at Wyong, seeing his odds for the spring feature crash with bookmakers.
In the hands of champion jockey James McDonald, Dundeel was outpaced early in the 1350m 3-year-old event but looped the field on the home turn and after taking an age to balance up in the home straight grabbed victory in the last two strides.
While he was beating relatively inexperienced rivals there were still plenty of dented reputations left in his wake, at a distance well short of what is expected to be Dundeel's best.
Now unbeaten in two starts, he becomes a leading contender for races like the Spring Championship in October and the VRC Derby in November, a race his ill-fated stablemate Lion Tamer won two years ago.
Baker's son Bjorn, who now trains in Sydney and has been looking after Dundeel, was left shaking his head.
"Just goes to show you what good horses can do. That was well short of his best and he had to carry 58kg and come the widest and he still won.
"He is only going to get better the further he goes because he is a lovely moving horse."
McDonald was just as enthusiastic as he described how Dundeel was on the wrong leg on the home bend and simply won on raw ability rather than any racing nous.