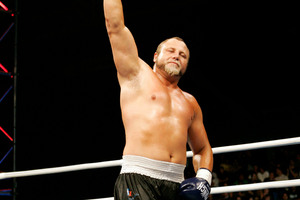 The man Sonny Bill Williams is said to be fighting next - South Africa's Francois Botha - once had to endure Mike Tyson trying to break his arm.
Sounds whacky, but it is at least a signal that Williams' next boxing opponent may at last be someone with some genuine boxing ability and a boxing history with more than just "patsy" names.
The fight has been set for November 17 in Durban, according to South African newspapers, though Williams' agent Khoder Nasser said: "We are not talking about any fight at the moment. He has got two games for the All Blacks and that is his total focus at the moment. When those things are done, there is a time and a place for everything. So we are not going to discuss the boxing at the moment."
The 43-year-old Botha has fought the great Lennox Lewis, Evander Holyfield, Wladimir Klitschko and Tyson - and his mad moment with the latter came during their fight in 1999.
Botha was Tyson's first opponent after his banning following the scandal of Tyson's second fight with the redoubtable Holyfield in 1997 - when Tyson bit off a chunk of Holyfield's ear.
At the end of the first round against Botha, a ring-rusty Tyson seemed to hold and twist Botha's left arm at the elbow. The South African - known as "The White Buffalo" - flailed at Tyson to get free as handlers from both corners rushed into the ring and stopped any further damage, stopping the round early. Tyson later admitted he had been trying to break Botha's arm.
Botha was ahead on all scorecards until the fifth round when Tyson connected with a short right that finished matters. Botha was badly hurt and failed to beat the count.
Botha, though he has never won an international boxing title of any real repute, has clashed with many of boxing's big names and, if he has lost to all of them and indeed to every major name he has fought (including another former world champion, Michael Moorer), Botha has still built a name for himself as a durable and credible heavyweight on the world scene.
Moorer beat him in 1996 by a TKO in the 12th round of 12, Tyson had that fifth round knockout and Lewis wasted no time, ending the fight with Botha in the second round, by TKO, in 2000. Klitschko also won by TKO in the eighth round of their 12-rounder.
Botha is unquestionably on the downward curve of his career. He is not - and never was - in heavyweight boxing's top echelon and has lost three of his last four fights.
However, credit where it's due - two of those latest four fights and losses have been against Holyfield and a former heavyweight contender, Michael Grant, whose career was ruined by a rampant Lewis in just the second round of their much-heralded world title clash in 2000. Grant, now 40, is even bigger than Sonny Bill at 2.01m, and was a heavily hyped fighter until Lewis crushed him.
Holyfield fought Botha in April, 2010, winning in the eighth round. Holyfield is an extraordinary, if cautionary story.
He will be 50 in October and many think he is doing serious damage to himself by continuing to fight. But, even at 48, he was too much for Botha.
New Zealand fight fans will remember that it was 28 years ago - in Los Angeles, 1984, that Holyfield was disqualified for hitting after the break in the Olympic Games of that year. He knocked out New Zealand's Kevin Barry - later to be David Tua's manager - and his disqualification caused a near-riot in the stadium.
Still, these are all big names and light years away from the fighters Williams has faced to this point.
Small wonder Botha has already started taunts like suggesting the fight be held during halftime at a rugby match and that he would fight with one hand tied behind his back.
There are also suggestions that Williams could be involved in a month-long "tour" of the Republic, including participation in a sevens tournament, although that has yet to be confirmed.