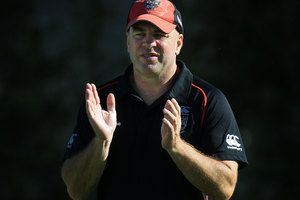 Brian McClennan remains committed to coaching the Warriors and hopes he will be given the opportunity to make amends after a disastrous debut season.
Speculation on both sides of the Tasman has cast doubt on McClennan's future with the Warriors, and Kiwis coach Steve Kearney has been in discussions this week with chief executive Wayne Scurrah about assuming an assistant coaching role next season.
McClennan, though, denied reports his departure would come sooner rather than later and reaffirmed his desire to continue at the helm of a club he has taken from grand finalists to near the foot of the table.
"No, that's untrue and, no, I haven't considered that," he said of the suggestion he may not even see out the team's last three matches.
"We've discussed things and there are reviews in place, but that's something I can't talk about publicly."
Kearney's presence in Auckland coupled with Scurrah's refusal to guarantee the future of McClennan has seen some observers suggest the current Kiwis coach could take over from the former national team mentor.
But McClennan said Kearney's visit has been in the works for some time and he felt unthreatened by the man who last month parted ways with Parramatta.
"He's coming over this weekend, we planned that a few weeks back. The owners and directors went through a robust review and how we think things could go better in the future.
"This is a part of it - extending the coaching staff. We're going to have some talks at this stage and hopefully they go well."
The Warriors have lost their last five matches to slip out of playoff contention and fall into a battle to avoid the wooden spoon. McClennan, in his first NRL campaign, said he was accountable for the slide and hoped to have the chance to rectify the results next season.
"I drive the bus. I'm responsible for the results at the end of the day. We've all got pressure on us - we've got members and fans that have expectations of how we should play and we've not lived up to those.
"You always do learn a lot more through your defeats and this has certainly been the biggest learning curve I've ever had. I've learnt some lessons and hopefully we can perform well over the next few weeks and I get a chance to do something about the lessons I've learnt over this year."
While the Warriors have been hit particularly hard with injuries to key players, fast-tracking the elevation to first grade of some of the championship-winning under-20 side, McClennan refused to seek excuses and backed his young charges.
"There's been some experience out but I'm not one to go and throw out reasons why. We could've done a lot better with the squad we've got. These young guys are getting opportunities and they've been doing well."
That has been one bright spot from a run of defeats that has cast a dark cloud over Mt Smart Stadium. With little more than pride to play for against Penrith on Sunday, McClennan said he and his players were determined to end the season on a high.
"I mentioned after the Cowboys game (52-12 loss last weekend) in the press conference, that that was as low as we've been. We all were low.
"It's just been really poor form by us the last two weeks. We're desperate to turn it around and we're at home. It's so important we come out of it with a little bit of joy - it's been a sad place the last few weeks."
- APNZ