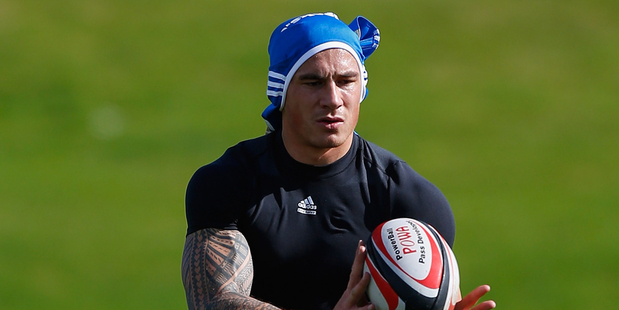 Sonny Bill Williams is rarely out of the spotlight but the glare is sure to increase in intensity this weekend when the All Blacks play Australia in Sydney.
It is the first time Williams has played in the city since he walked out on his Canterbury Bulldogs NRL team in 2008 for the Toulouse rugby club in France.
It is also the first time he has played for the All Blacks in Australia and the first time he has started against the Wallabies. The next time he plays in Sydney it will be in the NRL and probably for the Roosters.
Another day, another headline for SBW, though. "I haven't really thought too much about it to be honest," Williams said today before the All Blacks flew out of Auckland. "I know there will be a bit more of a spotlight on me because of that [Sydney return] but I play my best when I just focus on what I need to do.
"It doesn't really faze me. I've been around a while now."
Asked whether he could get a similar reaction to what Quade Cooper received in New Zealand during the World Cup, Williams replied: "I get that everywhere I go, you know? Down at the Highlanders [this season] it wasn't too good, but it just comes with the territory."
To that, coach Steve Hansen suggested: "Just take your shirt off mate and you'll be right." All jokes aside, Williams will be desperate to prove a thing or two at ANZ Stadium on Saturday night.
He was devastated to be left out of the team for the All Balcks' final Tri Nations match against the Wallabies in Brisbane last year - won 25-20 by the home team - and it's a chance to shine after Hansen's plea to stay for two more matches, an SOS which came due to Conrad Smith's eye injury.
"Yeah there will be a little bit more interest, possibly coming from the league side of the media, but he's a special athlete, no doubt about it, so he probably deserves a bit of extra attention," was Hansen's take on the matter.
Williams will join Ma'a Nonu in a powerful midfield combination after the Blues player sat out the three Ireland tests in June in a bid to freshen up.
Hansen said of Nonu: "He's come back and he's really raring to go. I think we'll see that on Saturday night."
- APNZ