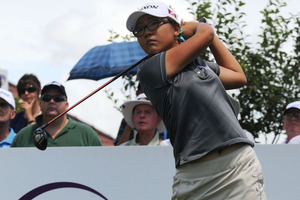 World No1 Lydia Ko will receive the Mark H McCormack Medal as the leading women's amateur player in the World Amateur Golf Rankings for the second consecutive year.
Aucklander Ko said: "I'd like to thank the USGA and The R&A because without them, the ranking wouldn't be possible. It gets me to places where normal people can't go, and it's a great honour.
"It's pretty amazing. After I got the medal last year, I haven't lost the No1 position since then. I became world No1 on my birthday last year. It's good to continue it. I'll continue to get more invites to professional events. It's always good to be world No1.
"People read 'New Zealand No1' and then 'world No1', it's totally different. It's good, and it's good to have your name along with those big names. There are so many great players' names on there."
The 15-year-old secured the top ranking after winning the US Women's Amateur Championship at The Country Club in Cleveland, Ohio.
She defeated Jaye Marie Green from Florida 3 and 1 in Sunday's final match.
Ko received the inaugural medal for the top ranked women's amateur player in 2011 and has enjoyed continued success in 2012.
In January she became one of the youngest winners of a professional golf championship when she won the New South Wales Open on the ALPG Tour aged 14.
She also won the Australian Women's Amateur and was runner-up in the Australian Women's Stroke Play Championship. At this year's US Women's Open Ko received the silver medal as the leading amateur and she was a semi-finalist at the US Girls' Junior Championship.
The R&A and United States Golf Association (USGA) award recognises Ko's remarkable season. She has led the ranking for 68 consecutive weeks and will gain a place in the 2013 US Women's Open.
The Women's WAGR ranking has a calendar of 2,000 counting events with over 3,600 ranked players representing 88 countries worldwide.
John Bodenhamer, USGA Senior Managing Director, Rules, Competitions & Amateur Status, said: "Lydia is to be congratulated for two years of tremendous success, capped with her victory at the 2012 US Women's Amateur Championship. She has accomplished so much for someone of such a young age, and all of us at the USGA hope she continues her success."
Johnnie Cole-Hamilton, Executive Director - Championships at The R&A, said: "Lydia deserves a huge amount of credit for performing so well throughout the last two years. She is clearly a wonderful player and seems to be showing a great level of maturity at such a young age.
"The Women's WAGR has quickly become a valuable reference tool and highlights the growing strength in depth of the women's amateur game. I congratulate Lydia on winning the McCormack Medal once again."
- APNZ