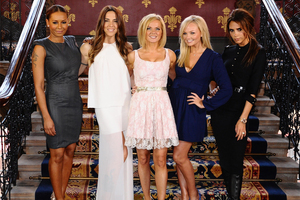 It will be one of the most hotly anticipated reunions in pop music - but would you be willing to pay $2,900 for the pleasure?
Tickets for the Olympics closing ceremony, where the Spice Girls will reunite for the first time in four years, were still available on Friday for £1,500 (NZ$2,900).
But for those with less deep pockets, organisers have revealed they may be able to release "a few hundred" additional tickets later this evening (NZ time), across all price ranges, after finalising the seating plans at the Olympic Stadium.
The stage set and equipment will be wheeled into the stadium on Monday morning (NZT), after which bosses will assess if they can squeeze in any extra seats for the public.
These tickets will go online, without warning, tonight (NZT), benefiting a lucky few who log on at the right time.
The Spice Girls were photographed earlier in the week fitting in some last-minute practice for the show. They were pictured standing on black taxis at a dress rehearsal.
Until now, the Nineties girl group had repeatedly refused to confirm their involvement, with Melanie Chisholm, 38, insisting they had not been approached.
But Victoria Beckham, 38, had hinted at their presence recently, saying: 'Who knows, maybe someday we'll do something else with the Spice Girls. I would love nothing more.'
Wearing skin-tight leather trousers and high heels, she maintained her balance on top of the black cab as they ran through their dance moves at an old Ford plant in East London.
Take That had also been widely tipped to join them in the show, but singer Gary Barlow's presence is in doubt after his daughter Poppy was stillborn last weekend.
The Who, George Michael, Muse and Ed Sheeran have all said they will take part in a show that will include performances of 30 British hit singles from the past five decades.
As well as celebrating British music, the ceremony will also feature a parade of vehicles including Mods on scooters, a Triumph Herald and Del Boy's Reliant Robin. Pop duo the Pet Shop Boys will arrive on a pair of bicycle rickshaws.
Singer Annie Lennox was pictured at rehearsals on board a "ghost ship" in a blood-red gown, while Jessie J, 24, will perform from the back of an open-top Rolls-Royce marked with her initials.
Other acts spotted practising in Dagenham include comedian Russell Brand, Monty Python's Eric Idle, George Michael, and Suggs from Madness.
The line-up will include supermodels such as Kate Moss and Naomi Campbell and replicas of British landmarks, including the London Eye, Tower Bridge, Big Ben and St Paul's Cathedral.
The three-hour ceremony is being directed by Kim Gavin, who masterminded the 2007 Concert For Diana.
It will start at 9pm and include a handover from London to Rio de Janeiro, host city of the 2016 Games. The Brazilians are believed to be recreating Copacabana Beach for their part of the ceremony.
David Arnold, the ceremony's musical director, said: 'We're trying to have moments where someone from the Cotswolds watching it on TV and someone from a tower block overlooking it in the East End will be able to find something in it of which they can say, "That's us, really that's Britain".'
- DAILY MAIL