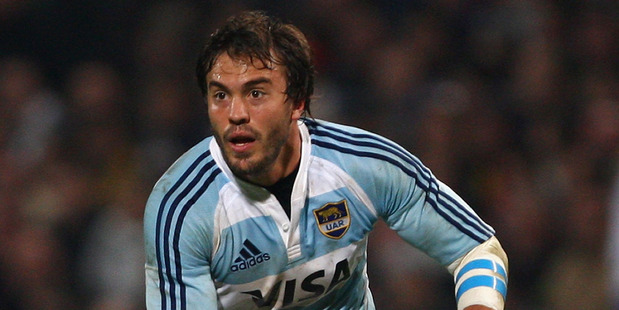 The Pumas face a tough assignment in the Rugby Championship - even before Graham Henry's moves to change the way they play to a more expansive game.
Mounting excitement is overtaking everyone in Argentine rugby. Being able to play against South Africa, New Zealand and Australia twice every year for at least the next four years has brought a huge sense of relief to the game in this country. It is up to Los Pumas to force their way into future Sanzar plans.
But it is a moot point how the Argentines will play in this championship, with moves being made to change the way they play to build a better record of success.
There are doubts about how good this Puma side will be. Statistics are not generous when it comes to their three opponents: 42 losses in 48 internationals. A single draw against the All Blacks in 1985 - the Hugo Porta test, 21 points coming from his polished boots - is the only blemish on New Zealand's record; the Wallabies are the only side to lose against Los Pumas: four times and one draw.
In addition, the Pumas lost once to French club Stade Francais in practice matches over the past two weekends. The loss raised doubts, not on the score but in the manner in which they played.
Since Graham Henry became adviser to Puma coach Santiago Phelan, he has tried to convince him and his team to play a faster, wider game. This is not natural to Argentine players. The first match against Stade Francais was their first game of the season and, with only two of 26 players selected to travel to South Africa not based in Europe, it was understandable they'd be rusty.
Henry is enjoying the new challenges in his seven-week involvement with Los Pumas; one is the language, the other that "they've been used to playing in a certain way and some of it is good and some of it I don't agree with - so there are good discussions and hopefully we are coming to the right conclusions".
It is clear that the Pumas' forward-oriented style seems outdated and one-dimensional and is certainly unlike the styles of the three other teams. Henry has given them a new vision but they've had only two games to try it - and that calls into question how the Pumas will play during the Championship.
"You wonder whether it will be enough going into the intensity of a championship against the three best teams in the world. As matches go on, they will get used to it," Henry says.
The squad that is about to jump on the flight across the Atlantic is as strong as it can be; only flanker Juan Manuel Leguizamon is nursing a muscle strain but he should be available for round two.
French and English clubs have worked out a deal with the Argentine Rugby Union and 34 players (26 from European clubs) have been together since July 1 working towards the Championship. Many have raised doubts about availability issues given that former captain Felipe Contepomi is not involved. He decided not to play and won't be missed. Anyway, if he was to be needed at some stage, he could be called up.
"We have some performance goals and, even if we will try to win every game, it is not the do-or-die thing at the moment," says Juan Martin Hernandez, sorely missed over the past three seasons through injury.
"I want to win the six games and we have prepared like never before; we know how high the stakes are and against whom we are playing. But only by playing in this competition will we get better."
First-five Hernandez is one of the team leaders; lock Patricio Albacete is the other big support for new captain Juan Martin Fernandez Lobbe.
"We are focusing right now on South Africa, on that first game," the skipper tells the Herald on Sunday. "It will be highly emotional for us and it will be crucial that we can take on to the field of play a game we feel comfortable with."
That could be a multi-dimensional game plan, with continuity and speed. Such a style looks good on paper and maybe even on the training paddock. But what brought them to the door of the Rugby Championship is a slow, forward-oriented style.
It is not hard to see them reverting to the old, tried and true style when things get tough. Which they will.