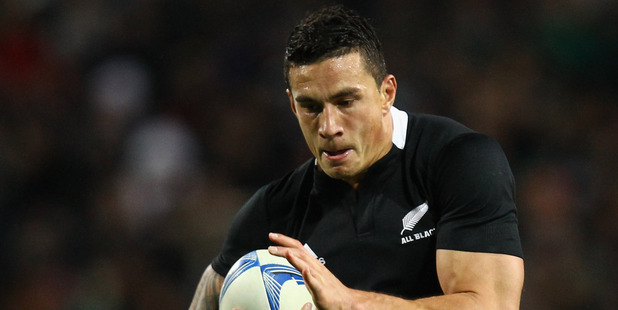 Weeks of negotiating will finally end early this week and clear Sonny Bill Williams to play for the All Blacks against Australia.
The saga has been prolonged, intense and complicated but the All Blacks, in conjunction with the New Zealand Rugby Union, believe they have a deal that will keep Williams' soon-to-be new employer Panasonic happy that their prize asset is being protected.
At the heart of the issue has been insurance - as in who will be liable for Williams' medical bills if he's injured while on All Black duty.
Panasonic understandably wanted Williams to be medically checked late last week to be satisfied that if he turns up in Japan with any injuries, they were inflicted while playing against the Wallabies.
The last details are being hammered out today as the All Blacks plan to shift into full test mode tomorrow. Ideally, they need Williams to be cleared by then so he can begin game-specific work with his expected midfield partner, Ma'a Nonu.
The two have played together in the midfield before - against England in 2010.
It was Williams' debut and he played in the unfamiliar role of centre. The partnership never fired.
But nearly two years on, Williams is an entirely different player. Even though he's not played 20 tests, few would be uncomfortable describing him as world-class and his presence has provided a major psychological lift for his team-mates.
"As far as I know, we have got him," said All Black captain Richie McCaw. "That's a major positive. To have him and Ma'a together in the midfield as well as Tarms [Tamati Ellison] is good for us.
"He [Williams] has played particularly well and I know the couple of times we [Crusaders] played against him this year, he was a real handful. The three tests he had, he was pretty good as well."
As well as honing their midfield combination, a major focus for the All Blacks this week is going to be lifting their mental intensity to ensure they deliver the required physicality and aggression in Sydney.
The Wallabies were hurt by the way the All Blacks so easily beat them in last year's World Cup semifinal and, with only the Reds making the preliminary Super Rugby play-offs, the bulk of their squad have had weeks together to nurse their wrath and keep it warm.
"Quite a few of their players didn't have the Super Rugby campaigns they would have liked and I guess after the World Cup last year, there will be a bit of an edge," said McCaw.
"They will be ready and we have to be ready as well."
The All Blacks will prepare for the test in Auckland, before flying to Sydney on Thursday.