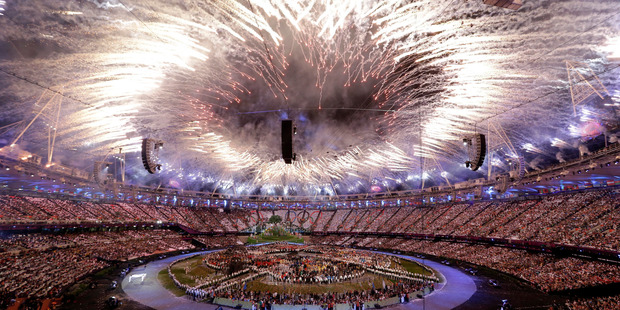 There is still a little sand left to flow in the Olympic hourglass, but there is a perceptible shift in the mood around London, into a phase of transition.
For the athletes whose competitive programmes have been completed, it's party time, family time, or time to look ahead.
For the thousands of visitors from around the United Kingdom, the neighbouring continents, and around the world, thoughts are turning to the post-Olympics sightseeing, or the long flight home. There are thoughts of friends, family, and the 9-5 life, without a daily plate heaving with chunks of elite sport.
Having been online and in touch with so many Kiwis during these Games, I've had the extraordinary sensation of feeling like I've been in two places at once.
I'm physically in London, but I can know in an instant what my colleagues back in the office, and people in their homes, think of the action on their TVs.
It's like being on a party line with half the population at once.
There is still a lot to come. The Paralympic athletes are waiting in the wings, ready to capture the imagination all over again.
East Londoners will watch as the temporary structures within Olympic Park are removed, while the permanent ones stand strong as living reminders of fast times in Stratford. Football club West Ham United wants to move in to the main stadium. They would inherit a fine home, already with its own history.
The locals know how much money went into building this area up from "wasted land" into what it is today. They have expectations for what this "new face" can bring for them. They are confident, even the ones who harbour doubts, like a lady who talked my ear off for a quarter-hour.
She said more than a few people had put themselves into debt in order to get tickets to the Games, or suffered losses in selling their tickets on because of credit card interest, but in the broader sense the rejuvenation of Stratford would go a long way to helping residents to find their feet.
It simply has to, she told me. Nobody can afford to be negative about it.
The Olympic slogan for London is "inspire a generation", but the unofficial tagline must be different.
Very little overcrowding, very little transport chaos, and a smooth-running city - these last few weeks this city has been positive.
London has wished for the best, and London has received it.
Tweet of the day
Aside from representing my country and all, I'd want to be an Olympic athlete just to be able to party in the Olympic village.
@xpamplemouse