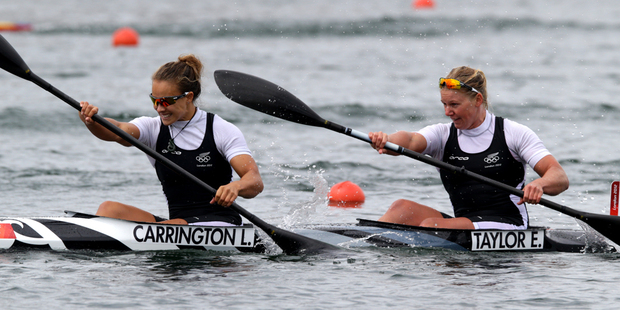 A look towards day 13 of the 2012 London Olympics and which New Zealand athletes will be competing.
Kiwis in action - See when our athletes compete
Hockey:
The Black Sticks men's team clash with Argentina in the highly unanticipated 9th-10th classification match at 8.30pm. It could be the last international for a number of New Zealand players with just pride to play for.
Taekwondo:
Two of New Zealand's taekwondo competitors are in action on day 13 of the Games with Logan Campbell facing Ukraine's Hryhorij Husarovat 8.45pm in the men's 68kg class followed by Robyn Chong in the women's 57kg against Hedava Wahba of Egypt at 10pm.
Canoe sprint:
Lisa Carrington and Erin Taylor race for gold in the K2 500m final at 9.35pm while Teneale Hatton will compete in the K1500m B final at 9.08pm.
Athletics:
Brent Newdick returns for day two of the decathlon where he sits in 16th place after the first five events. Day two consists of the 110m hurdles, discus, pole vault, javelin and ends with the 1500m.
The big event on the track is the 200m final at 7.55am when Usain Bolt attempts to defend his title against Yohan Blake. Men's triple jump gold and women's javelin will also be decided as well as the men's 800m final.
BMX:
New Zealand's male BMX riders race in the quarterfinals with Kurt Pickard in heat 1 at 2am followed by Marc Willers in the third heat at 2.06am. Spots in the semifinals will be on offer.
Sailing:
Paul Snow-Hansen and Jason Saunders have an outside chance of a bronze medal heading into the men's 470 medal race. They are fifth going into the final race where points are worth double but will need a strong showing, and some luck to go their way, to move up into third position.
Football:
The women's gold medal match between the USA and Japan kicks off at 6.45am.
Medal chances?
Slim pickings with Carrington and Taylor as the only New Zealanders with an actual shot at winning gold while the men's 470 can only pick up a bronze. Newdick is the only other Kiwi who can medal but he would need to pull off an outstanding day on the track and field to do so.
- HERALD ONLINE