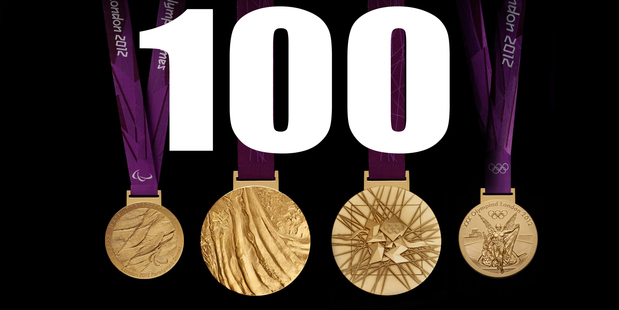 It's taken 104 years but New Zealand is on the cusp of its Olympic century.
The honour of winning the 100th medal, and 19th silver went to 49er class sailors Peter Burling and Blair Tuke overnight.
It would have gone to 1500m man Nick Willis but he dropped away in the closing stages yesterday as he sought a second Olympic medal to sit with his silver from Beijing four years ago.
There would have been a nice symmetry to that; Willis was New Zealand's flagbearer at the opening ceremony and it would have come in an event for which New Zealanders retain a special affection, courtesy of Jack Lovelock, Peter Snell and John Walker.
Race walker Harry Kerr was the first of three New Zealanders who won Olympic medals, yet will always have an asterisk against their name, if not to signify any sort of black mark.
It's just that Kerr, who was third in the 3500 metre walk in 1908, along with tennis legend Anthony Wilding and swimmer Malcolm Champion - New Zealand's first gold medallist - four years later in Stockholm, represented Australasia.
New Zealand was still in its relative infancy. It must have seemed a logical thing to do, attaching oneself to the bigger neighbour.
The list also includes New Zealand's only Winter Olympic medallist, slalom skier Annelise Coberger who until very late on sat in the gold medal position at Albertille, France 20 years ago.
Of the 100, almost half come from athletics and rowing, each having won 21 medals. Athletics was out on its own until rowing's surge in London.
The medals are spread over 12 sports and there's some curiosities. Who remembers Christchurch marksman Ian Ballinger winning the country's only shooting medal in Mexico City 44 years ago?
And before Burling and Tuke, who were New Zealand's last sailing medal winners, excluding those standing on boards?
The quest for the 10 needed to reach 100 was laid out months ago by the New Zealand Olympic Committee as the target for London.
Mark Todd and his eventing chums kicked things off at Greenwich Park last week; the outstanding rowing squad made Eton Dorney a place that will find a place in New Zealand Olympic folklore, just as Lake Casitas, outside Los Angeles, will always ring a special bell for those who were there when the canoeists shook the paddling world with four gold medals in 1984.
The cyclists and Valerie Adams collected their medals, leaving two talented young sailors to raise three figures.
Who are five Olympic medallists you should know? Read here.
Our 100 Medals
GOLD
2012 London
Nathan Cohen and Joseph Sullivan, rowing, men's double sculls
Hamish Bond and Eric Murray, rowing, men's pair
Mahe Drysdale, rowing, men's single sculls
2008 Beijing
Tom Ashley, board sailing
Georgina Evers-Swindell and Caroline Evers-Swindell, rowing, women's double sculls
Valerie Vili, athletics, women's shot put
2004 Athens
Georgina Evers-Swindell and Caroline Evers-Swindell, rowing, women's double sculls
Sarah Ulmer, cycling, women's 3000 m individual pursuit, world record time
Hamish Carter, triathlon, men's triathlon
2000 Sydney
Rob Waddell, rowing, single sculls
1996 Atlanta
Blyth Tait, riding Reddy Teddy, equestrian, individual mixed eventing
Danyon Loader, swimming, men's 200 m freestyle
Danyon Loader, swimming, men's 400 m freestyle
1992 Barcelona
Barbara Kendall, sailing, women's lechner board
1988 Seoul
Ian Ferguson and Paul MacDonald, canoeing, K2 500 m, flatwater
Mark Todd, riding Charisma, equestrian, individual mixed eventing
Bruce Kendall, sailing, men's board
1984 Los Angeles
Alan Thompson, kayak, K1 1000 m flatwater
Ian Ferguson, kayak, K1 500 m flatwater
Ian Ferguson and Paul MacDonald, canoeing, K2 500 m, flatwater
Grant Bramwell, Ian Ferguson, Paul MacDonald and Alan Thompson, K4 1000 m, flatwater
Mark Todd, riding Charisma, equestrian, individual mixed eventing
Les O'Connell, Shane O'Brien, Conrad Robertson and Keith Trask, rowing, coxless four
Chris Timms and Rex Sellers, sailing, mixed open multihull, Tornado
Russell Coutts, sailing, men's single-handed dinghy, Finn
1976 Montreal
John Walker, athletics, men's 1500 m
Paul Ackerley, Jeff Archibald, Arthur Borren, Alan Chesney, John Christensen, Greg Dayman, Tony Ineson, Barry Maister, Selwyn Maister, Trevor Manning, Alan McIntyre, Arthur Parkin, Mohan Patel, Ramesh Patel; (Neil McLeod and Les Wilson were in the squad but did not play and were not awarded gold medals), men's field hockey
1972 Munich
Tony Hurt, Wybo Veldman, Dick Joyce, John Hunter, Lindsay Wilson, Athol Earl, Trevor Coker, Gary Robertson and Simon Dickie (cox), rowing, men's eights
1968 Mexico
Dick Joyce, Dudley Storey, Ross Collinge, Warren Cole and Simon Dickie (cox), rowing, coxed fours
1964 Tokyo
Peter Snell, athletics, 800 m track
Peter Snell, athletics, 1500 m, track
Helmer Pedersen and Earle Wells, sailing, Flying Dutchman
1960 Rome
Peter Snell, athletics, 800 m track
Murray Halberg, athletics, 5000 m track
1956 Melbourne
Norman Read, athletics, 50 km walk
Peter Mander and Jack Cropp, sailing, 12 metre
1952 Helsinki
Yvette Williams, athletics, long jump
1936 Berlin
Jack Lovelock, athletics, 1500 m track
1928 Amsterdam
Ted Morgan, boxing, welterweight
1912 Stockholm
Malcolm Champion, swimming, member of Australasian 4x 200m freestyle relay team
-
SILVER
2012 London
Valerie Adams, athletics, women's shotput
Peter Burling and Blair Tuke, sailing, men's 49er
2008 Beijing
Hayden Roulston, cycling, individual pursuit
Nick Willis, athletics, 1500m
2004 Athens
Bevan Docherty, triathlon
Ben Fouhy, canoeing, K1 1000m
1996 Atlanta
Sally Clark, riding Squirrel Hill, equestrian, individual eventing
Barbara Kendall, boardsailing
1992 Barcelona
Andrew Nicholson riding Spinning Rhombus, Vicki Latta riding Chief, Blyth Tait riding Messiah and Mark Todd riding Welton Greylag (not awarded a medal as he did not complete the event), equestrian, team eventing
Leslie Egnot and Jan Shearer, sailing, women's 470
Don Cowie and Rod Davis, sailing, Star
Danyon Loader, swimming, 200m butterfly
1992 Winter Olympics, Albertville, France
Annelise Coberger, slalom
1988 Seoul
Ian Ferguson and Paul MacDonald, canoeing, K2 1000m
Chris Timms and Rex Sellers, sailing, Tornado
1984 Los Angeles
Kevin Barry, boxing, 75-81kg light-heavyweight
1976 Montreal
Dick Quax, athletics, 5000m
1972 Munich
Dick Tonks, Dudley Storey, Ross Collinge and Noel Mills, rowing, coxless four
1932 Los Angeles
Cyril Stiles and Fred Thompson, rowing, pair
-
BRONZE
2012 London
Andrew Nicholson riding Nereo, Mark Todd riding Campino, Caroline Powell riding Lenamore, Jonelle Richards riding Flintstar and Jock Paget riding Clifton Promise, equestrian, team eventing
Juliette Haigh and Rebecca Scown, rowing, women's pair
Storm Uru and Peter Taylor, rowing, lightweight men's double sculls
Marc Ryan, Sam Bewley, Westley Gough, Jesse Sergent and Aaron Gate, cycling, 4000 m men's team pursuit
Simon van Velthooven, cycling, men's keirin
2008 Beijing
Mahe Drysdale, rowing, men's single sculls
Nathan Twaddle and George Bridgewater, rowing, men's coxless pairs
Hayden Roulston, Jesse Sergent, Marc Ryan, Sam Bewley, cycling, men's team pursuit
Bevan Docherty, triathlon, men's triathlon
2000 Sydney
Mark Todd riding Eyespy II, equestrian, individual mixed eventing
Barbara Kendall, sailing, women's Mistral board
Aaron McIntosh, sailing, men's Mistral board
1996 Atlanta
Andrew Nicholson riding Jagermeister 11, Vaughn Jefferis riding Bounce, Blyth Tait riding Chesterfield and Vicki Latta riding Broadcast News, equestrian, mixed team eventing
1992 Barcelona
Lorraine Moller, athletics, women's marathon
David Tua, boxing, 81 - 91 kg heavyweight
Gary Anderson, track cycling, men's individual pursuit
Blyth Tait riding Messiah, equestrian, individual mixed eventing
Craig Monk, sailing, men's single-handed dinghy, Finn
1988 Seoul
Paul MacDonald, K-1 500 m, flatwater
Mark Todd riding Charisma, Margaret Knighton riding Enterprise, Andrew Bennie riding Grayshott and Tinks Pottinger riding Volunteer, equestrian, mixed team eventing
George Keys, Ian Wright, Greg Johnston, Chris White and Andrew Bird (cox), rowing, men's coxed fours
Lynley Hannen and Nicola Payne, rowing, women's coxless pairs
Eric Verdonk, rowing, men's single sculls
John Cutler, sailing, men's single-handed dinghy, Finn
Paul Kingsman, swimming, men's 200 m backstroke
Anthony Mosse, swimming, men's 200 m butterfly
1984 Los Angeles
Kevin Lawton, Don Symon, Barrie Mabbott, Ross Tong and Brett Hollister (cox), rowing, men's coxed fours
Bruce Kendall, sailing, men's windglider board
1976 Montreal
Tony Hurt, Alex McLean, Ivan Sutherland, Trevor Coker, Peter Dignan, Lindsay Wilson, Athol Earl, Dave Rodger and Simon Dickie (cox), rowing, eights
1972 Munich
Rod Dixon, athletics, 1500 m track
1968 Mexico
Ian Ballinger, shooting, smallbore rifle
Mike Ryan, athletics, marathon
1964 Tokyo
Marise Chamberlain, athletics, 800 m track
John Davies, athletics, 1500 m track
1960 Rome
Barry Magee, athletics, marathon
1952 Helsinki
John Holland, athletics, 400 m hurdles
Jean Stewart, swimming, women's 100 m backstroke
1924 Paris
Arthur Porritt, athletics, 100m track
1920 Antwerp (first games an official New Zealand team attended)
Clarence Hadfield D'Arcy, rowing, single sculls
1912 Stockholm
Anthony Wilding, tennis, singles, member of Australasian team
1908 London
Harry Kerr, athletics, 3500 m walk, member of Australasian team
Here's a look back at New Zealand's top 20 Olympic Moments as chosen by Herald writers: