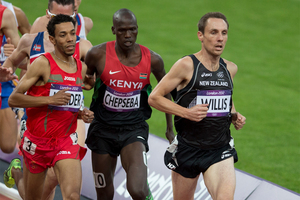 An "embarrassed" Nick Willis is at a loss to explain his 1500m flop in London today.
The 29-year-old did everything right in the star-studded final until the final 300m. When the field surged Willis looked like he was running in treacle, drifting towards the back of the 12-man field as Taoufik Makhloufi cruised home for the victory in 3m 34.08s.
In an ironic twist, Makhloufi was only reinstated to the field yesterday after initially being ejected from the Olympic Games by the IAAF - world athletics' governing body - for not trying in 800m.
A clearly exhausted Willis said he had given himself every chance of success with his race strategy, but when the kick came on he had no legs.
"I conserved as much energy in the first two laps as possible," he said. "I felt like I was in the perfect position with 500m to go, but when the pace picked up and I went with it that was the extent of my fitness or what my legs could do today."
Following Makhloufi home were American Leonel Manzano and Abdalaati Iguider of Morocco.
Willis finished ninth in 3m 36.94.
Willis felt like he was "muscling" it from a long way out and knew he was in trouble. It reminded him of the final of the world championships in Daegu last year, when he went out to the front early but could nothing about it when the field moved into hyper-drive.
"It's really heart-breaking when you've put in so much work during the year. So many people stayed back from the start of their work day to watch that and to not be able to come through on the day that mattered most was quite frustrating."
All the more so because the Beijing silver medallist looked in supreme touch during his heat and semifinal. He felt confident, New Zealand felt confident and he was okay carrying those expectations.
"I just had nothing left. Two and a half weeks ago I ran the best time of my life finishing much faster than I did today running 6s slower. So obviously something wasn't right. Maybe I didn't prepare well enough for running three rounds.
"I feel bad for my coach and my wife and my family who put in so much this year. It would have been even harder for them to watch in the stands.
"When the going got tough, it was just a bit embarrassing. I shouldn't be embarrassed; it's an Olympic final, something I dreamed about as a kid but knowing I came in with such good credentials... I probably talked too much and it came back to bite me in the arse."
Willis, probably New Zealand's proudest ever flagbearer, might feel broken now, but the old defiance soon returned.
He wants to go to Rio de Janeiro. He wants to run in the 1500m. He doesn't want to take the soft option of moving up to the 5000m.
Age is just a number he reckons.
"People often end their careers for financial reasons rather than actual age.
"I'm still improving in the 15, just not today."
- APNZ