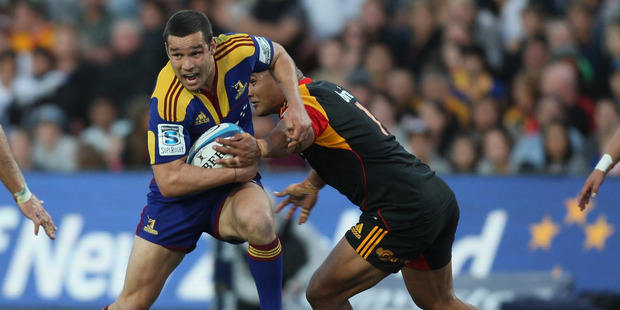 Japanese sabbaticals are expected to become more common, with increasing numbers of senior players likely to bypass the ITM Cup in future years.
It's a win-win situation, as provincial rugby is almost bust and the Japanese market can better look after those wanting a cash boost as they near the end of their days.
The dire state of the provincial game was highlighted last week when accountancy firm Deloitte & Touche released a report that showed the collective revenue of the 14 teams has dropped by 20 per cent in the past five years.
More telling was the subsequent reduction in costs that have been a consequence of falling incomes: "Total expenditures have decreased across the major categories: team and match related costs, growing the game and administration expenses," said the report. "The greatest reduction is with team and match costs, suggesting those in management positions are consciously reducing match and player costs with falling revenues."
Even five years ago senior players would be hoping to earn between $50,000 and $100,000 for their ITM commitments. Now, under the salary cap, the maximum payment an individual can receive is $60,000.
For some players the ITM Cup is barely worth it either financially or in terms of developing their game - it is something they have to do merely to be eligible for Super Rugby.
Tom Donnelly and Faifili Levave are both heading to Japan shortly but will return early next year to play Super Rugby - just as Ma'a Nonu did. These types of deals are expected to become more popular and greater provision is likely to be made within the player collective agreement. Players can earn significantly more money by playing in Japan: good Super Rugby players can earn anything from $150,000 to $500,000 a season.
Historically, the situation has been rigid: senior players unlikely to feature for the All Blacks have either been rejected by Super Rugby sides or offered modest contracts to stay. Players at the same stage in their careers as Donnelly and Levave have simply headed offshore with no option or intent to come back.
Heading to Japan for a stint with a Super Rugby contract in place is a means to retain senior players who have shown in recent seasons they still have considerable value. Donnelly was a strong fill-in performer for the Crusaders when resting Luke Romano or Sam Whitelock. Levave, too, surpassed expectations with a big campaign and, by allowing him to play in Japan, the Hurricanes have been able to retain him - most probably at a reduced wage which he's accepted in return for flexibility.
Allowing players time in Japan is expected to be discussed when the New Zealand Rugby Players' Association begin collective contract negotiations with the New Zealand Rugby Union later this year. Imposing a rigid regulatory framework is not the goal - but the NZRPA would be keen to ensure players and administrators are all aware of the option. Japan is a fast-growing market with money and a seemingly insatiable appetite for foreign players. Each side in the 14-team league can import six players and there are no dramas obtaining visas.
Part of the boom is being driven by Japan's desire to raise the profile of rugby ahead of hosting the World Cup in 2019. Sonny Bill Williams' arrival is expected to boost rugby in a major way. The NZRU is conscious of striking the right balance: Reducing costs within the provincial game but keeping the ITM Cup meaningful by having a good mix of youngsters and seasoned professionals. They need to be wary of allowing too many senior players to head for Japan - primarily because they are needed in provincial squads to mentor the emerging generation. There is also concern as to when players return from Japan. The regular season runs from September to mid-February but the play-offs are usually in March.
Nonu and Tamati Ellison were both back in New Zealand before the first Super Rugby game and the latter even played in it. The situation is not ideal, however, as by playing in Japan, players miss pre-season work and, while they arrive home match conditioned, they are not up to speed with game plans.
There is also a chance, as happened with Tusi Pisi, of the Hurricanes, that players are needed for finals rugby in Japan and are forced to miss a few weeks of Super Rugby. But with teams able to pick 32-man squads, a handful of players returning late is not likely to be catastrophic.